Designer Boyoung Kim Inks Deal on UWS for First NYC Boutique
---
---
In a rebuke to the chain retailer invasion of the Upper West Side, the upstart designer (and Alexander Wang protege) Boyoung Kim has signed a 700-square-foot lease at 410 Columbus Avenue for her first dedicated New York boutique.
The Commercial Observer has learned that Douglas Elliman retail group Chairman Faith Hope Consolo and Executive Vice President Joseph Aquino represented the landlord, Orleans Realty, LLC in the transaction. It follows a lease signed by jeweler Alexis Bittar in the adjacent space earlier this year.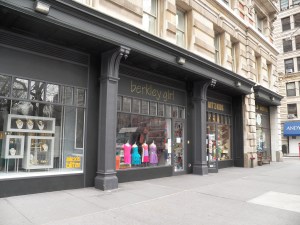 "I think that although this is a luxury retailer, it's also a real niche designer," Ms. Consolo said. "Boyoung Kim is the type of retailer that used to be on the West Side. and proves that the West Side is still a good training ground for the independent creator, even if a retail space isn't a traditional mom and pop."
Russell Futterman of Focus Real Estate Group represented the tenant in the 10-year lease. Ms. Consolo said asking rent was $350 a foot.
In recent years, the influx of large chain stores has led Upper West Siders to push for zoning changes that would maintain local character. Ms. Consolo said she'd noticed a move away from those stores–and omnipresent children's clothing retailers–toward the type of edgier businesses that thrived in the neighborhood in the 1980s.
"It's not only fashion shops," she said, "but more overall panache. We're bringing it back to the glory days."