Yankee Mark Teixeira's 'Juice Press' Investment Grows
---
---
New York Yankees first baseman Mark Teixeira's investment in "raw food," smoothie and pressed juice company Juice Press seems to be paying off, with the rapidly-growing company signing a lease for another Manhattan store at 239 Columbus Avenue.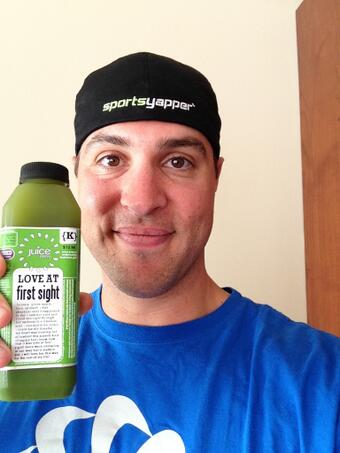 The 400-square-foot Upper West Side outpost marks the 10th Manhattan location and counting for the brand, which Mr. Teixeira, a partner in the company, has said represents the "top of the marketplace right now in the food industry."
"When you talk about raw, organic, healthy food, Juice Press is number one right now in Manhattan," Mr. Teixeira told The Wall Street Journal last year. "I would never endorse a product or invest in a business that I didn't believe in."
Mr. Teixeira, now 33, said his investments in companies like Juice Press and Sports Yapper are a forecast into his post-baseball future, when free time opens up and endorsements  disappear.
"Unless you're a hall of famer, unless you're Michael Jordan or Derek Jeter, those endorsements aren't going to be there after you're done playing, so it's very important to build businesses, build partnerships and have fun, safe investments that you can look forward to when you're done playing," he said.
Jason Turner and Adam Weinblatt from Zelnik & Company represented the tenant, while Rafe Evans from Walker Malloy represented the landlord, industry sources said. Mr. Turner, reached by phone, declined comment, and Mr. Evans did not return calls in time for publication.
Mr. Evans told the New York Post, which reported the lease today, however, that the landlord (listed in public records as Aywid Realty's Michael and Philip Widlanski) was offering the space for $13,000 a month but drew $15,000 after "a real bidding war." The Commercial Observer confirmed with industry sources that the yearly rent was set at $450 per square foot.
Mr. Evans told the Post that one of the building owners is an avid Yankees fan and that "Juice Press craved the highly visible corner so much, Teixeria invited him to batting practice to help seal the deal."
Juice Press offers a variety of organic juices, smoothies, dehydrated snacks, enzymes/probiotics and a range of raw food menu items that include lasagna, kimchee and pico de gallo.
The company is a proponent of a "juice cleanse" diet, which prescribes a strict, juice-only diet for anywhere between three and 45 days, one to two times a year, without the ingestion of alcohol, coffee, tea or solid food.
239 Columbus Avenue
,
Adam Weinblatt
,
Aywid Realty
,
Derek Jeter
,
Jason Turner
,
Juice Press
,
Mark Teixeira
,
Michael Jordan
,
New York Yankees
,
Rafe Evans
,
Sports Yapper
,
Walker Malloy
,
Zelnik & Company