Villard Mansion to be Marketed Toward Retailers and Corporate Users
---
---
The Villard Mansion at the New York Palace Hotel, a 27,000-square-foot mansion built by railroad magnate Henry Villard in 1882, will be marketed by CBRE (CBRE) toward flagship retail tenants and corporate users when the property is relaunched in September, The Commercial Observer has learned.
"It is ideally suited for one tenant," said Jedd Nero, executive vice president at CBRE, who is marketing the space on behalf of owner Northwood Investors LLC. "It is a very unique and rare opportunity that lends itself to a retail flagship type of tenancy."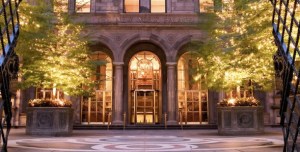 The six-floor mansion, located at 457 Madison Avenue on the corner of 51st Street, is currently undergoing extensive renovations along with the New York Palace hotel. Mr Nero declined to elaborate on the specifics of the $125 million renovation plan but did say the infrastructure of the building would be the beneficiary of numerous upgrades and improvements.
Currently vacant, the Villard Mansion has previously served as a private residence as well as offices for Random House, the Archdiocese of New York and the Municipal Art Society.
The mansion features a gated entrance way and a courtyard which could potentially be utilized for private parties and product launches. Interior features include multiple fireplaces and high ceilings.
Though multiple tenants could be accommodated at the property, Northwood Investors is focused on finding a single user. "They are particular about who the tenant will be," Mr. Nero noted, adding potential tenants could include apparel brands, jewelry companies and auction houses.
Northwood Investors acquired the 899-room New York Palace hotel in 2011. The property was purchased for approximately $400 million from an entity associated with the royal family of Brunei, according to a Bloomberg report.
CBRE will begin its marketing campaign once the renovations to the property are completed in September. The space has not yet been priced but will be appropriate to the market, according to Mr. Nero.
"This is such a unique opportunity to have your own mansion on Madison Avenue," Mr. Nero said. "For someone to have this type of presence allows a tenant to stand out amongst the crowd."
Mr. Nero is joined on the CBRE leasing team by Michael Kadosh, Robert Bonicoro, Brielle Milano and Paul Milunec.
457 Madison Avenue
,
Archdiocese of New York
,
Brielle Milano
,
Henry Villard
,
Jedd Nero
,
Michael Kadosh
,
Municipal Art Society
,
New York Palace Hotel
,
Northwood Investors LLC
,
Paul Milunec
,
Random House
,
Robert Bonicoro
,
Villard Mansion
,
CBRE