Scott Panzer: Jones Lang LaSalle's Triple Digit Threat
---
---
Scott Panzer no longer wears a tie to the office. But despite his nod to Gen Y's watering down of the workplace dress code, the Jones Lang LaSalle vice chairman shows up to our interview in a snazzy pair of suspenders and a starched white button-down. A 26-year veteran of the real estate industry, Mr. Panzer is at a stage of his career when he doesn't sweat the small stuff, like neckwear. Instead, he focuses on matching elite tenants (like Interpublic Group of Companies) with A-list landlords (including Sheldon Solow) and their trophy properties (e.g. 9 West 57th Street). Mr. Panzer spoke to The Commercial Observer about his real estate salad days, the comeback of triple-digit rents and the negotiating power of cowboy boots.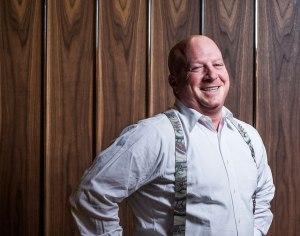 The Commercial Observer: When did you get involved in real estate?
Mr. Panzer: Back in 1985, I was working for the British publisher Robert Maxwell on his M&A team. By '87 we'd amassed about six million square feet of real estate and 600 properties in the Americas. We didn't have anybody in the organization that was responsible for that or knew what to do. The Maxwells came to me and said, "Why don't you pick up all the real estate and see if you can make heads or tails of this, make hay out of it?" That was my initial foray into the real estate world.
And how did you land at Newmark?
I joined Newmark in early '94. [Current Newmark Grubb Knight Frank Chief Executive Officer] Barry Gosin and I were courting each other and finally made a deal. I remember Barry and [President] Jimmy Kuhn asking, "What are the five things you think you need to be successful here?" And I said the first thing they needed to do was get a color copier. They were still doing presentations on these oak-tag boards that were made up the night before. I remember one meeting, walking in, where half the words in the presentation were misspelled. And there was nothing you could do.
We did a litany of good corporate deals, and Barry and I had a good run.
And why did you decide to leave the firm for Jones Lang LaSalle in 2009?
Let's just say there were philosophical differences of the direction where that firm was going versus what my team was saying it wanted to be a part of.
You made that transition with a team of 13 people. That's a bulky move. How did it go?
Well, everyone knew it was happening. We'd spoken at length about it in our own little war room. At the time, there were really only three options under discussion: Cushman [& Wakefield], CB[RE] and JLL. And each of the firms offered something similar, but then there were nuances. In the end, we felt that JLL was the better fit for us. And it was unanimous, not me saying I wanted to do it.
Without the Staubach merger [of 2008], I'm not sure we'd have made the jump. We'd have been way too entrepreneurial for the legacy JLL. The merger brought a bit of entrepreneurship to the firm. And we felt comfortable that we'd come in here and wouldn't be absorbed by JLL, but rather put our own brand on top of what was starting to morph. We brought a lot of scrappiness and tenacity to an organization that was very structured. And they've smoothed out some of our rough edges.
You made the leap six months after Lehman Brothers and the markets collapsed. Looking at New York real estate almost five years later, how is the industry faring?
It's schizophrenic. It's Jekyll and Hyde. You have this excitement around Hudson Yards and Downtown. And this emergence of traditionally California-based companies, the web component. New York is now clearly on par with Silicon Valley. California's a cool place to be; New York's cooler.