Eliot Spitzer Refinances Properties, Including Own Home
---
---
In a well-timed move that many others are replicating, former New York Governor Eliot Spitzer took advantage of record-low interest rates before they jumped up in the last few weeks, refinancing his properties, including the one where he officially still lives with his wife Silda Spitzer, The Mortgage Observer has learned.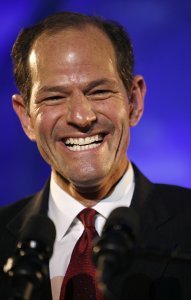 In a deal that closed on May 31, 2013, public records show, Mr. Spitzer's family company, Spitzer Enterprises, obtained a $20 million loan from Apple Bank for Savings to refinance the 25-story, 47-unit residential building at 985 Fifth Avenue, between 79th and 80th Streets. Recently there have been rumors about the living situation of the former governor, who stepped down in 2008 after the disclosure of his involvement with an escort. In May 2013, The New York Post reported that Mr. Spitzer was spending time away from the apartment he shares with his wife. Sources told the Post that they had regularly spotted him early in the morning at 800 Fifth Avenue, where his father, Bernard Spitzer, lives. "The Spitzer family owns 985 Fifth Avenue, and Eliot lives there," Lisa Linden, a spokeswoman for Mr. Spitzer told The Mortgage Observer.
Mr. Spitzer is still registered as a Democratic voter at the address, along with his wife and his three daughters, PropertyShark.com shows. He was also the signatory of the loan that Apple Bank just provided on the property. The loan has a 10-year term and an interest rate under 3.5 percent, according to Charles Morisi at Spitzer Enterprises. The loan was provided along with another mortgage on another property owned by the family-run company, Mr. Morisi added. Apple Bank provided this second $20 million loan at the same terms on 220 East 72nd Street. A spokeswoman with Apple Bank declined to provide comments for this story.
"They were both replacement of existing debt, looking to take advantage of the low interest rates," Mr. Morisi said. The company closed both deals when interest rates were below 3.5 percent, before they picked up in June.
In another well-timed move, the company just locked in the rate for a $135 million loan on a Washington, D.C., property acquired in 2009, Mr. Morisi said. He declined to identify the property because the loan has yet to be closed. In 2009, though, one of the first public post-scandal moves for Mr. Spitzer was the $180 million acquisition of the 13-story office building 1615 L Street NW in D.C. Since then, Mr. Spitzer has kept working in the family real estate company, which currently owns about 12 properties between New York and Washington, D.C.
apirolo@observer.com