David Barton Gym Opens in West Village
---
---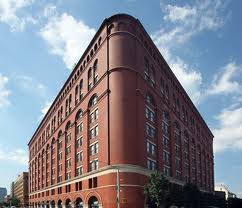 Known for its unique blend of grit and glamour, David Barton Gym will be opening a new location at The Archive at 666 Greenwich Street in the West Village.
The gym will take approximately 12,950-square-feet of Rockrose Development's 10-story residential building. Formerly a US Appraiser's warehouse, the building was converted to nearly 500 loft-like apartments in the late 1980s.
The extensive base of the building lends itself favorably to retail leasing, which currently houses D'Agostino's. David Barton Gym will divide its space between 7,650-square-feet on the ground floor and 5,300-square feet on the lower level.
"We had strong leasing activity at the Archive," explained Patricia Dunphy, senior vice president of Rockrose Development. "The West Village has limited retail so when our spaces starting to turn over in the past year we saw great interest as compared to 10 and 15 years ago."
Considering the retail and residential demand in the area, the asking rent was in the $70s per square foot.
"We were looking for a tenant which was a good fit for our demographic. We wanted a tenant who could offer a wide range of services suitable for our tenants and the neighborhood," added Ms. Dunphy. "The area and the Archive is filled with prosperous healthy minded individuals who will enjoy the David Barton facility."
David Barton's lease comes on the heels of the Mandell School signing a 10,000-square-foot space in the building for its preschool program, The Commercial Observer reported earlier this spring.
Both the Mandell School and David Barton Gym signed long term leases, the latter inking for 15 years.
NAI Global NYC's executive managing director Scott Edlitz represented David Barton Gym in the transaction. Ms. Dunphy represented Rockrose in-house.