Christine Quinn Calls for 10-Year Permit for MSG
---
---
City Council Speaker and mayoral candidate Christine Quinn has announced her support for a new Penn Station in a letter to Madison Square Garden President and CEO Hank Ratner, suggesting the Garden be granted a 10-year special permit to operate an arena of more than 2,500 seats.
In her letter to Mr. Ratner, Ms. Quinn contrasted the "thrilling moments" experienced by New Yorkers at Madison Square Garden against the congested commuting experience at Penn Station.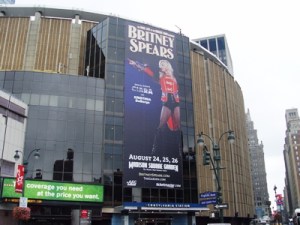 "As the number of travelers passing through the station has swelled to over 600,000 a day – far beyond the projections planners made when the current Garden was first proposed – these problems have only worsened," Ms. Quinn wrote in the letter released earlier today.
Ms. Quinn called for the creation of a Commission for a 21st Century Penn Station, whose mandate would be to both find a new home for Madison Square Garden and to create a Penn Station that better fits the needs of travelers. The 10-year term, Ms. Quinn wrote, would give time to create and implement a plan for the area.
Last month, the City Planning Commission proposed a 15-year term for Madison Square Garden's special permit, which the Garden is requesting be renewed indefinitely. The matter is now before the City Council in the last stage of the Uniform Land Use Review Procedure. Earlier today, the City Council heard testimony from stakeholders.
Also today, New York City Public Advocate Bill de Blasio, another candidate for mayor, voiced his support for a 10-year permit for Madison Square Garden in a letter addressed to Council Member Mark Weprin, chairman of the City Council's Subcommittee on Zoning and Franchises.