Chelsea Development Site on the Market
---
---
HFF is marketing a 7,583-square-foot development site at 140-144 West 28th Street between Sixth and Seventh Avenues in Chelsea. The site, which includes up to 144,876 square feet of development rights, is zoned for commercial use and is being marketed toward hotel developers.
"There are some investors thinking about the site for residential and it's significantly more valuable as residential, but the highest and best use is as a hotel since it's zoned for commercial use," Andrew Scandalios, senior managing director, told The Commercial Observer.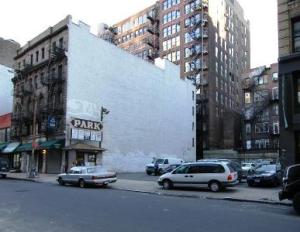 The site could yield up to $330 per square foot for hotel use and up to $600 per square foot for residential, Mr. Scandalios said. Though residential development is possible, it would require a zoning change, a process which could take up to 18 months.
"We're marketing it as commercial only," Mr. Scandalios said of the site, which is currently a parking lot.
HFF is evaluating offers now and expects to reach a deal sometime in July. If a deal is not concluded before that time, a bid deadline will be set sometime next month.
"The area is a hub for tourists and business people," Mr. Scandalios said of the area. "Chelsea is getting more activity."
Mr. Scandalios leads the HFF marketing team which also includes Jose Cruz, senior managing director, Jeffrey Julien, managing director and KC Patel, director.