Winick Markets 6,500 Square Feet of Super Prime East Village Retail Space
---
---
Winick Realty Group is exclusively marketing more than 6,500 square feet of retail space at 37 St. Mark's Place, a prime corner property in the East Village. Melinda Miller and Lee Block are the leasing agents for the address, which they are listing as three separate ground level storefronts and a 3,000-square-foot lower-level with 11-foot ceilings.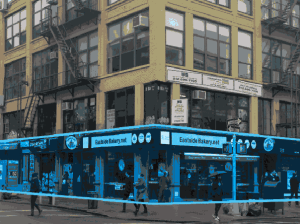 "This is a premier corner," Mr. Block said of the address on the pedestrian-clogged St. Mark's Place at Second Avenue, the East Village's retail and dining spine. "It's unlike any other. You just don't get this exposure and traffic very often." The property includes 100 feet of wraparound frontage. As of a couple weeks ago, all four retail spaces in the building are vacant. The site once housed Eastside Bakery.net and a Cohen's Optical store.
The three ground level spaces are 1,650 square feet, 1,200 square feet and 675 square feet. The brokers said that while four separate tenants would constitute the "most feasible" division, "one big tenant, or maybe two," are also possibilities. They declined to discuss asking rents.
While the East Village has lost its punk edge and welcomed a growing number of upscale retailers, St. Mark's Place has sustained a rakish, backpacker-friendly air. Is Winick courting a more mature tenant? "Really our focus is to bring in and talk to tenants who service the community," Ms. Miller said. "They should really serve a neighborhood that's been underserved."