The Prodigy: Ronald Lo Russo Takes Over at Cushman & Wakefield
---
---
Cushman & Wakefield reported the second-highest annual revenue in its 95-year history in 2012, so its new tristate president, Ronald Lo Russo, was unabashed to admit that the firm's metered first-quarter performance was "probably a little slower" than he would have liked. But the 38-year-old is no stranger to adversity, having shaped his career by beating the odds, unflinchingly and with a knack for looking at the bright side of things. In 2004, the New Jersey native earned his law degree from New York Law School and passed the bar—and that was while working full time for Vornado Realty Trust, where he oversaw 6.5 million square feet of office space.  Fun? Not at all, he told The Commercial Observer. "You kind of just have to see through to the bigger picture," he said. It's plain to see, however, that Mr. Lo Russo is in tune with both the micro and the macro, having found time to meet each employee he now oversees face-to-face, while also planning the steps that he believes will ultimately spur the firm's metamorphosis from "very, very good" to nothing short of "exceptional." Mr. Lo Russo articulated the ways in which he plans to do that, reflecting on his past, his future and his life outside of real estate—even his 5-year-old's soccer games—when he sat down to chat last week.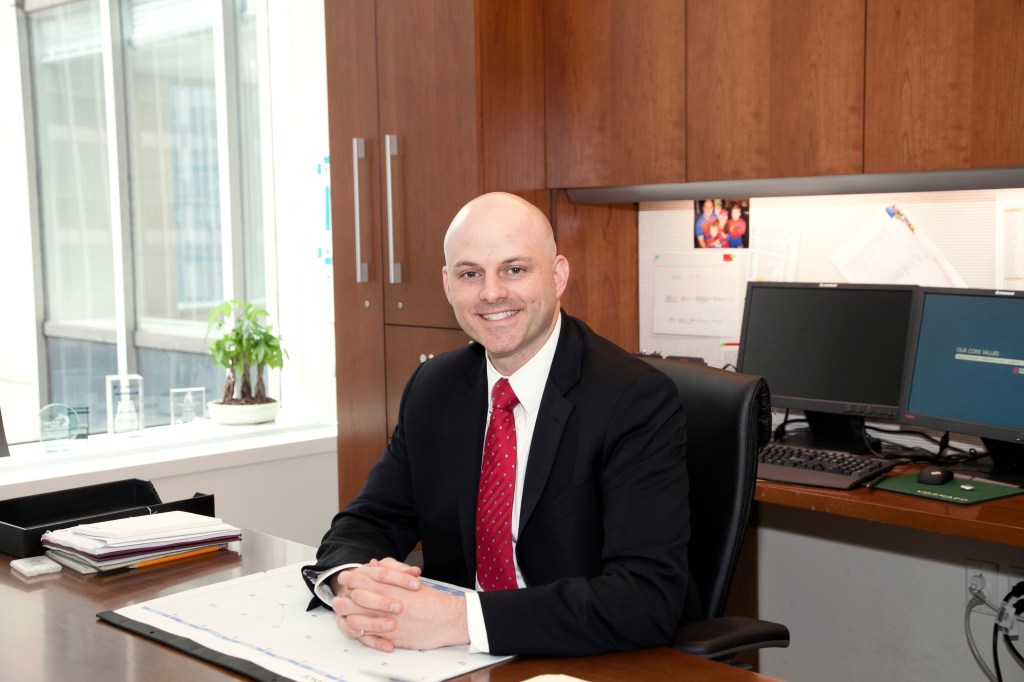 The Commercial Observer: Which of your past experiences was most helpful in preparing you for your new role at Cushman & Wakefield?
Mr. Lo Russo: Going to law school at night and working a full-time job at Vornado led me to believe that you can pretty much do anything that you want to do, and that kind of got my mind set in the right direction. Hard work has its own reward. It was exhausting. I would go from work to class four nights a week, get home at midnight every night, get up for work at 6 the next morning—for three and a half years. The weekends were studying from 7 in the morning to 6 o'clock at night. And that was it. There's no fun story with that one. [Laughs] That's just what it was. But it went by quick, and it showed me that whatever I'm doing today isn't how it's going to be tomorrow.
You were vice president of leasing at Vornado. Can you contrast what you did there with what you'll be doing at C&W?
I dealt directly opposite the brokers who I am interfacing daily with today. I was on the deal side, responsible for about six and a half million square feet of office space to market and manage. At Vornado, when you're in the leasing area, you get really involved with the asset from a management perspective, because Vornado actually owns and operates its own properties. So I was very hands-on with the assets.
Everyone says it, and there's nothing more true: the assets ride up and down the elevators every night here. The assets at Vornado were the elevators. [Laughs] It was the bricks and mortars … hard assets. This is a much more people-intensive business, and it's extremely entrepreneurial, and it's very exciting, and it's all deal- and transaction-based. Even if we're providing facilities management and property management, it's all servicing clients. That's what we're all about—servicing clients. The mind-set [at Vornado] was, you're always serving the tenants. So I think in any position, you're in a service position. You just have to know who your clients are.
Why did you take this role?
It's a small business. Being at Vornado, I had constant contact with Cushman & Wakefield. We were a client. We had dealt with them on numerous transactions. I had a ton of respect for the professionals here, and the ability to work closely with them at a very high level didn't cause me to think too much about it. I jumped at the opportunity. It's a phenomenal position—the company brand is throughout the world and prominent. To be affiliated with it and to be in the driving force of it is extremely flattering.
What did you think about Michael Fascitelli stepping down at Vornado? Was it a surprise? His announcement came around the time you left. Were they related?
No, it wasn't related at all. Mike's leaving and my leaving had nothing to do with each other. I actually gave notice prior to Mike. I'm sure I had no impact on his decision to leave Vornado. [Laughs] They kept it very quiet from everybody. So, yes: surprised.
You started March 1. What have you been up to so far?
Going around office to office introducing myself, getting to know everybody. It's a big floor. There are a lot of people. There are a lot of people throughout the region. I went to all of the offices, and it's important for me to have the personal interaction with everyone, because at some point in time, time is not going to allow me to have the personal contact with everyone at the regularity that I'd like to. So I have to establish that from the beginning, so that everyone feels comfortable with me, the decisions that I make and the genesis of the decisions that I make—that they're coming from a good place and concern, and for the benefit of everyone here.
These are big offices. You say you met every person?
I mean every person. I mean I walk the floors in the morning. I walk the floors in the afternoon. I touch everybody to see just what's going on … I pop in. I'm relevant.
I'm not one to hide in an office. If I see somebody that I haven't said hello to, I find out how things are going for them here at Cushman & Wakefield, what we can do better, what we're doing great right now … And people are reaching out to me, because they know that I'm doing that and they've come to schedule a time, and that's fine with me.
What are some of the main initiatives you plan to introduce? Will there be changes?
I think Cushman & Wakefield is a very, very good real estate services firm. I want us to be an exceptional real estate services firm. I don't necessarily want us to be the biggest one in Manhattan, but I want us to be synonymous with the best service [provider] for the clients. And that, at the end of the day, is what it's all about: clients. We're client-focused in everything that we do, and it's important that the clients know that.
What does that entail … new lines of business, growth, hiring?
Hiring the right people, not just bodies to fill chairs. We don't need that. Talent that will be a good cultural fit for Cushman & Wakefield. It's very important for me to create a culture and to continue to create a culture where people are excited to come into work and work with their colleagues.
Training comes along with that. The training programs here will be unparalleled by any other firm. It's a work in progress that I'm passionate about to bring to the forefront, here to the tristate region, and it's already caught traction with my peers in different regions who are equally as passionate about it. We're getting the ball rolling in a big way.
What type of training?
The skill sets that existed years ago to become good at what you do in this industry are not necessarily the same skill sets today. It's important for the newer brokers coming into the business to be consultants and advisers to their clients and to have a full understanding of each aspect of the real estate transaction. If it's not a real estate leasing transaction, they need to understand how the asset runs. They need to understand how facilities management impacts project management. They need to understand the full scope of what they're providing for the client. So I think a more intensive program is necessary, and I'm looking to implement that.
What about life outside of real estate?
Right now there is no life outside of real estate. [Laughs] I'm married—coming up on eight years. I have three kids—two boys, and my baby girl was born three weeks ago. Those are also my hobbies. My kids are my world, so everything that I look to do when I'm not here is with my kids—from the hysterical soccer games of 5-year-olds to feeding my daughter in the middle of the night on the weekends. My wife is my hero. I don't know how she does it. If I think I work hard, she works 10 times harder than I do.