The Four Seasons Restaurant Faces Rent Hike
---
---
The Four Seasons Restaurant, home of the "power lunch," is facing a six-fold rent increase when its current lease expires in 2016, The Huffington Post reported yesterday. The iconic New York eatery, which currently pays $19.74 per square foot, could be looking at rents of $125 per square foot for its 29,476-square-foot space inside the Seagram Building at 375 Park Avenue.
Documents viewed by the Huff Post indicate that as part of the owners' $782.8 million mortgage deal, financed jointly by Citigroup and Deutsche Bank and being marketed to investors via commercial mortgage backed securities, bankers expect management at the property to begin charging the The Four Seasons market rents, which according to the documents are determined to be $125 per square foot.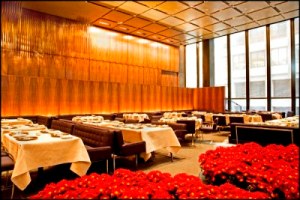 When reached for comment, Alex Von Bidder, co-owner of the restaurant, indicated he had not heard of a potential rent increase and had not been approached by management.
"The rent negotiation is nonexistent at this point," Von Bidder told the Huff Post on Wednesday.
However, as a designated landmark, the restaurant's interior, including its staircases, dining room and metal drapery cannot be altered, according to the report, giving The Four Seasons some leverage in its upcoming rent negotiations.
As reported by The Wall Street Journal earlier this week, RFR Realty has taken full ownership of the Seagram Building after it had paid off other stakeholders. The firm, lead by Aby Rosen and Michael Fuchs, borrowed approximately $1 billion to refinance their debt on the building, according to the report.