REBNY's Spring Retail Report Sees 55% Surge in Times Square Rents, Overall Growth
---
---
The Real Estate Board of New York released its spring retail report today, and the numbers back up the board's sentiment that "the retail market continues to be one of the healthiest sectors" in the city.
While across-the-board Manhattan average asking rents rose a mere 2 percent ($116 this spring compared to $114 last spring), prime corridors enjoyed dramatic gains. Average asking rents in the Times Square submarket spiked 55 percent to $2,175 per square foot compared to $1,400 a foot last spring. The Broadway corridor between 14th and 23rd Streets in the Flatiron District was not far behind, with a 50 percent increase to $320 a foot from $215. REBNY attributed the Times Square leap to a limited supply and a bump in tourism numbers.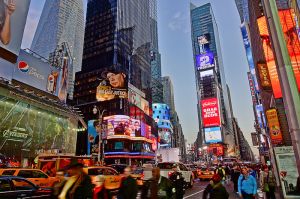 Another Flatiron District corridor, 5th Avenue between 14th and 23rd, grew as well, with average asking rents surging by 37 percent to $413 a foot from $302 a foot. Fifth Avenue between 49th and 59th Street demanded the highest asking rents in Manhattan. The average asking rent there this spring was $3,052 per square foot, up 11% from last year. However, REBNY pointed out that while rents continue to rise on upper Fifth Avenue, no deals were closed there between fall of 2012 and March 30 of this year, the cutoff for the report.
The weakest retail rent gains were on the Upper West Side. On Broadway between 72nd and 86th Street, average retail rents dipped 11% to $297 a foot. On the whole, the West Side between 60th and 116th Streets suffered a 21 percent decline (to $117 a foot from $149 a foot) in average retail asking rents between this and last spring. Rents also fell in the wider Midtown area (by 11 percent) and Upper Manhattan.
Midtown South enjoyed an overall 23 percent leap in average asking rents to $120 a foot from $97 a foot last spring. That growth can be attributed in part to the area's growing appeal as a tech and residential hub. Average retail asking rents along Broadway in the Financial District, which some brokers view as a fledgling tech and media hub, increased by 29 percent to $232 a foot.
REBNY attributed the overall gains, however modest, to ever-escalating tourist numbers–52 million people visited the city in 2012–, growing consumer confidence and a nominally improving economy