Protravel International Stays Grounded at 515 Madison Avenue
---
---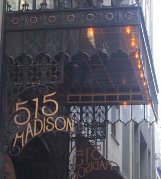 Protravel International Inc. has renewed its 47,100-square-foot lease in New York.
The travel company that caters to the city's high-profile international travelers will remain at the prized Art Deco DuMont Building at 515 Madison Avenue.
The firm initially leased a 4,000-square-foot space in the building in 1989. Since then, it has grown to encompass office space on the 8th, 9th, and 10th floors as well as 22 locations across the United States and the United Kingdom.
The new deal will continue its headquarter's foothold in New York until 2024, brokers said.
"We're proud to confirm that Protravel is literally here to stay – and that includes our determination to remain a major force in travel right here at our prestigious address, which has proven to be very convenient and highly desirable," said Priscilla Alexander, president of Protravel, in a statement about the renewal.
Their renewal comes a year and a half after the firm's merge with Tzell Travel Group. Both groups are large players in the high-margin international travel market and, combined, bring in sales totaling more than $2 billion dollars a year.
Since the merger, both companies continue to operate independently and Tzell Travel still maintains its headquarters at 1209 Broadway, several blocks south of Protravel.
"We're very happy that Protravel has once again extended its lease at 515 Madison Avenue," added Eric Gural, an executive managing director at Newmark Grubb Knight Frank who represented Newmark Holdings, the landlord and manager of the building.
"Through Protravel's nearly quarter-century with us, they've been an outstanding and valued client," added Mr. Gural.
Protravel worked directly with Mr. Gural to negotiate the deal.