Eastern Consolidated Tapped to Sell Homes of The Harrison, Flor de Sol and Five Guys
---
---
Eastern Consolidated is marketing the $11.2 million sale of a package of buildings that house downtown restaurants The Harrison, Flor de Sol and Five Guys Burgers and Fries, The Commercial Observer has learned.
A Swedish investment group that owns the three properties tapped Eastern to sell the adjacent Tribeca buildings at 355 and 361 Greenwich Street. The Five Guys branch is located at 496 LaGuardia Place.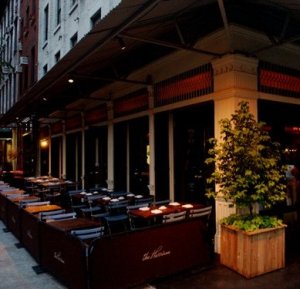 Eastern Senior Director Adelaide Polsinelli said that despite being priced as a package, the firm is offering the option to sell separately because of the restaurants' different stages of occupancy. Flor de Sol is on a new lease at 361 Greenwich Street, while The Harrison is mid-lease at 355 Greenwich Street. The Five Guys lease expires in July, and in all likelihood the burger joint will vacate at that time.
"Someone could buy the long-term leased property and put money away," said Ms. Polsinelli. "Or someone who needs the space immediately could take the LaGuardia property."
Ms. Polsinelli emphasized that The Harrison and Flor de Sol will stay put for the time being. 355 Greenwich Street has 2,300 square feet above grade, 361 Greenwich Street is 2,225 square feet and 496 LaGuardia Place offers 1,304 square feet.