Eastern Consolidated Reps US Bankruptcy Court in Sale of Restaurant Row Mixed-Use Building
---
---
Eastern Consolidated is exclusively marketing the sale of 334-336 West 46th Street, which will be listed at a bankruptcy auction sale on June 4, 2013 with a starting all-cash bid of $9.25 million, The Commercial Observer has learned.
The two adjoining four-story mixed-use buildings include 10 residential rental units and one commercial unit spread over a total 9,299 square feet. The ground floor retail is currently occupied by the Irish pub O'Flaherty's, whose lease expires next year. The property is the subject of a Chapter 11 bankruptcy bearing case.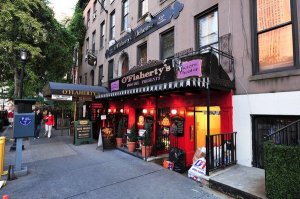 Eastern Consolidated Executive Managing Director David Schechtman, Senior Director Lipa Lieberman and Director of Financial Services Gary Meese are representing ownership.
The building's eight one-bedroom apartments rent for $1,800 a month. Both two-bedrooms rent for $3,600 a month. O'Flaherty's is currently paying $19,392 a month in rent. The bar's lease runs through next February. The Hell's Kitchen property located on Restaurant Row also contains 14,901 square feet of unused development rights, according to a source familiar with the deal.