Courting the Foodies: These Aren't Your Father's Food Courts
---
---
In 2010, harried Manhattan office workers were hungry for new lunch options.
Food trucks were somewhat novel and all the rage. Puckish restaurateurs like David Chang (Momofuku) had dispensed with tablecloths and seatbacks and made barebones eateries the hottest tickets in town. Flea markets, with their quirky food vendors, had stormed Brooklyn and downtown Manhattan.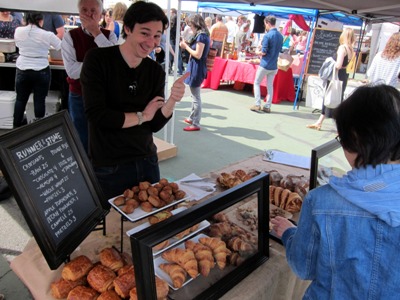 Charmless cafeterias in skyscraper atriums, however, had fallen out of favor, if they were ever in it.
It was the perfect time to open Eataly, and when the 58,000-square-foot Italian marketplace and dining area debuted (with Mario Batali as a principal investor) in August 2010 at 200 Fifth Avenue, corporate food courts across the city began rethinking their reliance on Cucina & Co. buffets.
"We went back to the drawing board," said David Levinson, chairman and chief executive of L&L Holding Company, which owns 200 Fifth Avenue. "Our original concept was a food hall surrounded by typical retail space. Eataly envisioned taking over the retail spaces and then injected the idea of a market. It was very powerful."
This year, two Financial District institutions announced plans for revitalized food courts. The Sandy-ravaged, and once chain-ridden, South Street Seaport has partnered with the creators of the Brooklyn Flea and its foodie offshoot, Smorgasburg, for Smorgasbar, a 497-seat food and drink concession area. More improbably, Brookfield Office Properties will open a gourmet market and 14 food stalls of varying indie-mindedness at Brookfield Place, formerly the World Financial Center.
"One of the things we wanted to do was create a sense of place that's true to what's emerging in Battery Park City and Tribeca," said Ed Hogan, Brookfield's national director of retail leasing. "And one way you can be authentic to where you're at is food. Retail, fashion tenants—once they're good, they go global."
Jonathan Butler, who with Eric Demby founded the Brooklyn Flea in 2008, hasn't made an international brand of his vintage shopping and artisanal food market. But it has expanded within New York, with a pop-up shop in the Whole Foods on Bowery and concessions at Central Park SummerStage.
None of these projects, not even the Seaport Smorgasbar, could be mistaken for a corporate food court. Still, can the Seaport and the former WFC shed their mall-ish restaurant layouts? Mr. Butler is less worried about the Flea's mindset being co-opted than "general public fatigue with artisanal food." He said that he's "had the unfortunate experience" of working in the Financial District and knows there are plenty of people in the area who need to eat lunch.
"My question isn't about a clash between bearded artisans and the suits," Mr. Butler said. "It's more, does the business model work? I have no idea how the Brookfield vendors will pay rent." Mr. Hogan said that "scrappy vendors would not work" at Brookfield, where rents reach $450 per square foot. Vending stations at Brookfield will range between 700 and 750 square feet.
Smorgasburg charges a flat daily rate of $120 to $275 to rent a booth for a day, but the Williamsburg and Dumbo locations are open once a week. Brookfield is another animal. "The volume requires a certain expertise and a proven ability to handle crowds," Mr. Hogan said. "We carefully curated our vendors."
The Brookfield Place vendors will cater to tourists and Lower Manhattan's growing residential population, but will youthful chains like Umami Burger and Dos Toros feel out of place in a property with strong ties to financial institutions?
"They're not selling out," Mr. Hogan said. "We're not building a mall. You won't see a formula."
Brooklyn Flea
,
David Chang
,
David Levinson
,
Dos Toros
,
Eataly
,
Ed Hogan
,
Eric Demby
,
Food & Drink
,
Jonathan Butler
,
L&L Holding Company
,
Momofuku
,
Smorgasbar
,
Smorgasburg
,
Umami Burger