CME Group Puts NYMEX Headquarters on the Block
---
---
CME Group, the world's largest futures exchange company with exchanges in Chicago and New York, is exploring the possible sale of the NYMEX Building, the headquarters of the New York Mercantile Exchange, at One North End Avenue.
In the event of a sale, CME Group will lease back a portion of the building and will continue the operation of the NYMEX trading floor.
"CME Group remains committed to our floor based membership and open outcry trading services in New York, which continue to be a profitable part of our business and serve our customers well," said Jamie Parisi, chief financial officer of CME Group, in a prepared statement.  "Going forward, whether we decide to retain occupancy at One North End or relocate within Lower Manhattan, we are committed to updating our New York offices to reflect the innovation and quality of our CME Group offices around the world."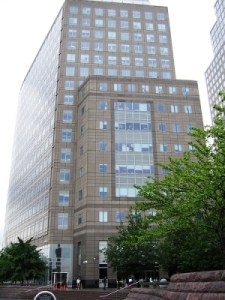 Located near Brookfield Place and the Goldman Sachs building, the 16-story, LEED-certified building will be marketed by Newmark Grubb Knight Frank and Holly Duran Real Estate Partners. James Kuhn, president and head of the capital markets group, and Jennifer Schwartzman, senior managing director, both of NGKF, will market the property in partnership with Holly Duran, principal, and Jeff Mulder, associate, of HDREP.
"This is a modern, iconic office tower with extraordinary infrastructure and systems," added Mr. Duran in the statement. "Accordingly, we expect strong competitive bidding and a large pool of potential buyers, including potential end users."
The building, constructed in 1997, was acquired by CME Group in 2008, along with the NYMEX business. CME Group owns the building via a ground lease from the Battery Park City Authority which expires in June 2069.
Battery Park City Authority
,
Brookfield Place
,
CME Group
,
Goldman Sachs
,
Holly Duran
,
Holly Duran Real Estate Partners
,
James Kuhn
,
Jamie Parisi
,
Jeff Mulder
,
Jennifer Schwartzman
,
New York Mercantile Exchange
,
Newmark Knight Frank
,
NYMEX Building
,
One North End Avneue