Hines Properties to Be Sold in $1 Billion Deal
---
---
Hines has selected buyers for its properties at 499 Park Avenue and 425 Lexington Avenue. The properties, part of the Hines U.S. Core Office Fund, are set to be acquired by American Realty Advisors and institutional investors advised by J.P. Morgan Asset Management, respectively, for a combined total of over $1 billion.
"New York has demonstrated a capacity for large scale capital transactions," Tommy Craig, senior managing director at Hines, told The Commercial Observer. "That has been validated [in these transactions.]"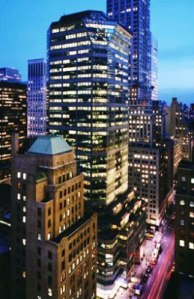 With the strength of the New York market in mind, Hines will likely redeploy capital back in to area on both the investment and development side.
"This reinforces our interest to put capital back in to New York City, to recycle that capital in both development and investment," Mr. Craig said. "We're in it for the long term."
As reported by The Commercial Observer, both properties were brought to market in February and were available together or on a stand alone basis. The bidding process, which had a deadline at the end of last month, experienced a slow start, Mr. Craig admitted, but finished with a flurry of activity.
"We had strong bids in the second round and on that basis we went into agreements," Mr. Craig noted. "We surpassed our pricing expectations and we are very pleased on behalf of our investors."
Mr. Craig declined to comment on the specifics of pricing and financing, indicating Hines would be more clear about the breakdown nearer to the time of closing.
In April, law firm Simpson Thacher & Bartlett LLP renewed its lease of 595,000 square feet at 425 Lexington Avenue despite the property's pending sale. The firm occupies 26 of the building's 31 floors, or 80 percent of the property.
Located on the corner of 59th Street and Park Avenue, the 28-story property at 499 Park Avenue was designed by I.M. Pei & Partners and counts both Cantor Fitzgerald and Hines as tenants. Mr. Craig declined to comment on whether Hines' New York headquarters would remain at the property.
The transactions are set to close by the end of the summer, according to a statement from Hines. The seller was represented by both Easdil Secured and CBRE.
Calls to Easdil Secured were not immediately returned. J.P. Morgan did not respond to requests for comment.
425 Lexington Avenue
,
499 Park Avenue
,
American Realty Advisors
,
Cantor Fitzgerald
,
CBRE
,
Easdil Secured
,
Hines
,
Hines U.S. Core Office Fund
,
I.M. Pei & Partners
,
J.P. Morgan Asset Management
,
Simpson Thacher & Bartlett LLP
,
Tommy Craig