Boyce Technologies Leases 6,200 Square Feet at Trump's 40 Wall Street
---
---
Boyce Technologies inked a seven-year, 6,200-square-foot lease renewal at the Trump Organization's 40 Wall Street, The Commercial Observer has learned.
Brad Gerla and Jeff Sharon of CBRE represented the tenant, a contracting firm. Jeffrey Lichtenberg, Jared Horowitz and Andrew Peretz of Cushman & Wakefield represented Trump. Asking rent was $35 per square foot.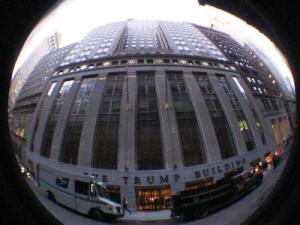 Boyce had been in the 71-story Financial District tower on a short-term sublease. "They've very happy with the Trump Building," Mr. Gerla said. "We did take them out elsewhere and at the end of the they signed a direct lease with the landlord."
In March, the private grade school Green Ivy signed a 25-year, 80,000-square-foot lease at the property. And last month, the financial services firm First Investors Management Company inked a deal for 36,490 square feet in the building. The corporate offices of Duane Reade take up 54,500 square feet on the 21st and 22nd floors there.
C&W took over the building's leasing assignment just over five years ago. Since then, they have leased more than 600,000 feet in the property.
"We track every deal that's going on downtown and are very aggressive with the brokers that represent the tenants," Mr. Lichtenberg said. "We get a shot at almost every deal downtown. We may not make them, but we get a shot. The brokers trust us. Our handshake is as good as contract and the landlord backs us up. At 40 Wall Street, Trump backs us up."
Mr. Gerla, who has worked extensively in the Financial District, saw the recent activity at 40 Wall Street and nearby properties as validation of the neighborhood's continued ascendency. "It just seems that Lower Manhattan is becoming a more and more viable alternative for Midtown South and Midtown tenants," he said. "The proof is in the pudding."