ASA College Inks 160,000 SF at Herald Center
---
---
ASA College has signed a long-term lease expansion for nearly 160,000 square feet at the Herald Center in Herald Square, paving the way for a separate 50,000-square-foot retail flagship opportunity.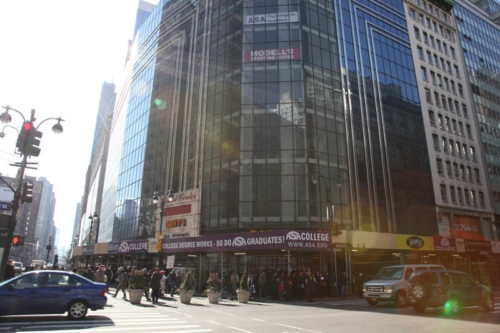 The college will vacate the first three floors of the 10-story, 245,000 square-foot mixed-use property, doubling its existing space to 112,000 square feet in a move to floors four through seven.
The move clears the way for landlord JEMB Realty Corporation to create a more prominent retail presence.
"ASA College has been a tremendous tenant for many years at Herald Center and we are gratified that they have chosen to undertake this major expansion of their Herald Square campus," said Bobby Dweck, an independent broker who negotiated the deal on behalf of JEMB, in a statement.
A spokesperson for JEMB told The Commercial Observer that asking rents were $60 per square foot.
The college's cooperation was essential for the planned renovation of the building, which will include the new retail leasing opportunity encompassing more than 50,000 square feet, Mr. Dweck said.
Ownership will remove the black glass panels on the first three floors previously occupied by ASA and replace them with transparent panes for a flagship retailer. In addition to the new facade on the base floors, floors four through ten will also be transformed with a set of new L.E.D. panels.
JEMB also plans to create a new ground floor lobby entrance along 33rd Street, giving the college exclusive use of the elevators servicing their floors; the deal also includes room for future expansion into an additional 48,000 square feet.
"We chose this location because it is a public transportation hub where the subway, buses and other forms of transportation all converge, making it accessible to all five boroughs of New York City and neighboring states as well," said Alex Shchegol, president and founder of ASA College, in a statement.
ASA was founded in 1985 in Brooklyn. It now serves over 6,000 students in 20 programs focused on healthcare, business and criminal justice.