Orange Business Services Moves to Midtown
---
---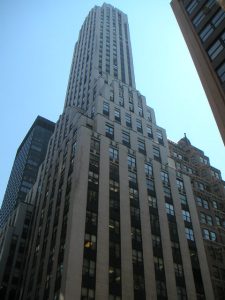 The global IT and communications services provider Orange Business Services will be leaving the Financial District, The Commercial Observer has learned.
The firm has been operating out of a suite at 2 World Financial Center but will be moving uptown to centralize their offices inside a 17,000-square-foot, full-floor space at 10 East 40th Street,.
"As a communications service provider that caters to a variety of international markets, it was important for Orange Business Services to find space in Midtown," said Ted Rotante, an executive managing director of Colliers International, in a prepared statement. "This relocation will allow the company to provide its services to their clients from a more advantageous, central location."
Orange Business Services will take Blackboard Collaborate's remaining lease at 10 East 40th Street, otherwise known as the 10 Mercantile Building. The sublease will span the entire 11th floor, Mr. Rotante said.
Located between Fifth and Madison avenues, the building is steps away from Grand Central Terminal and a short distance to Penn Station, aligning to the company's desire for an accessible office.
Blackboard Collaborate was represented by a pair from Studley, Ken Ruderman and Nick Zarnin. Mr. Rotante was the only broker at Colliers International representing Orange Business Services.
Neither party returned calls for comment last week.
As a subsidiary of the French communications giant, France Telecom, Orange Business Solutions handles the information technology services and consulting of the company, employing more than 30,000 workers in approximately 150 countries. Recent reports out of Business Day, a South African newspaper, noted that the company has plans to double its profits and development in Africa over the next five years.