Waiting on a Dream: Betting on 'Spec' at 51 Astor Place
---
---
The dark glass walls lining 51 Astor Place are modernistic, if not futuristic. Some critics have claimed that its developer's asking rents, at upward of $115 a foot, are from the future too.
Others have argued that Edward Minskoff took a gamble in erecting the structure without an anchor tenant—a so-called "spec tower."
But for Mr. Minskoff, who has developed close to 37 million square feet of property in 10 cities around the country—maintaining patience as a virtue—the term takes on a positive connotation.
"A spec tower means that we started the development with the confidence that if you build it they will come, and with the confidence necessary to lease the building," Mr. Minskoff told The Commercial Observer.  "If you're going to plan a building and you don't start it until a tenant comes walking along, you can be sitting on the dirt for 10 years."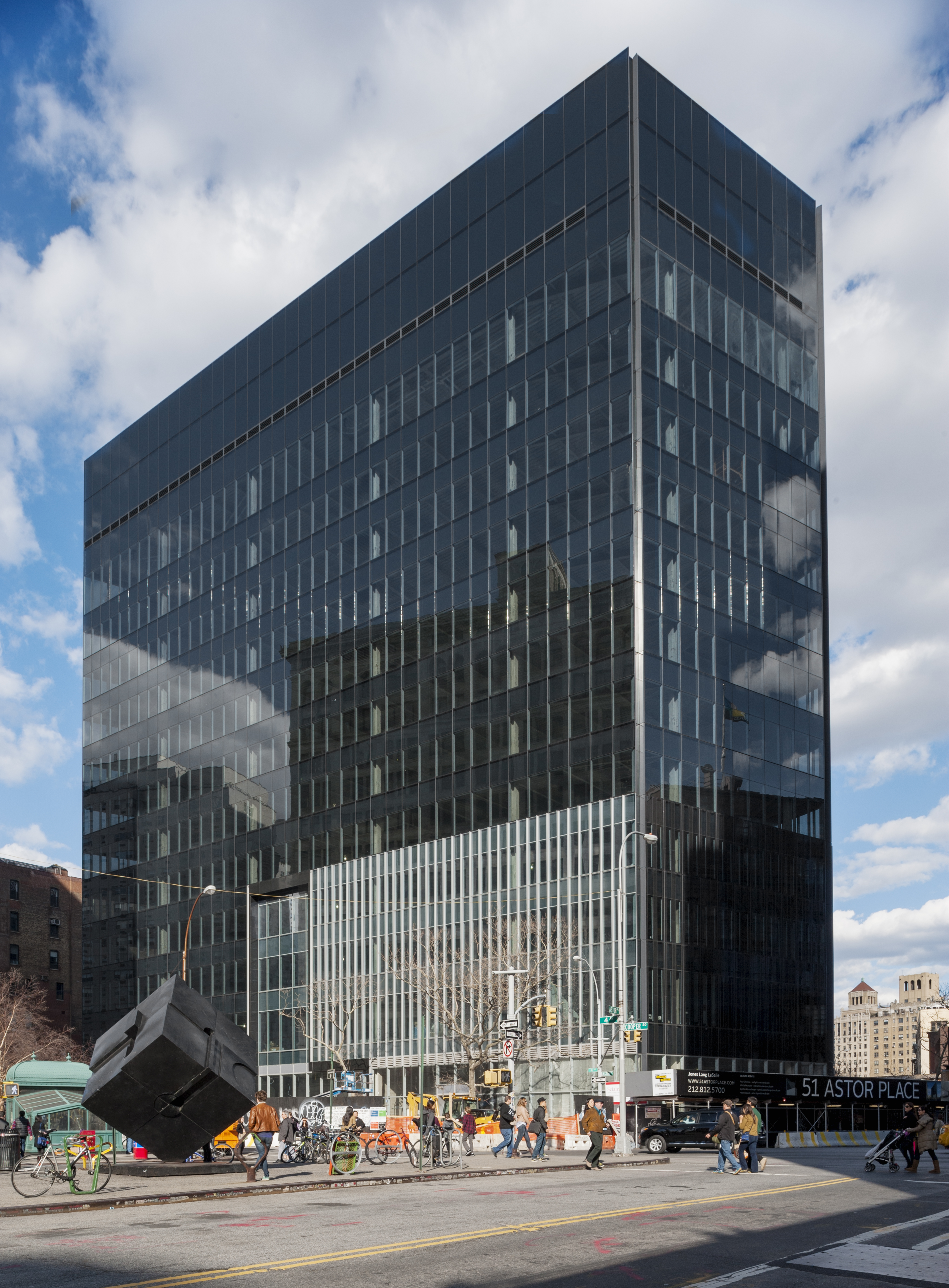 It's nothing new for Mr. Minskoff, who more than three decades ago started construction on the sprawling, 7½-million-square-foot World Financial Center without a single tenant in contract, patiently securing giants like American Express, Merrill Lynch, Oppenheimer and Dow Jones as the development played out.
"Tenants want to see a building," said Mr. Minskoff, who added that the new property will open in May following completion of the lobby. "They want to see reality. They don't want conjecture."
As the grand opening of the 13-story, 430,000-square-foot building approaches, Mr. Minskoff and those at the helm of the project anticipate a similar trajectory at 51 Astor. The property towers above the rest of the neighborhood, where a 24-hour McDonald's, a Ray's Pizza and an array of small shops and restaurants harbor strong foot traffic that is accentuated by the perpetual buzz of college students.
The project comes in an era characterized by a construction lull, offering an anchor tenant the visibility that even a Midtown skyscraper would not, with access to an army of students from neighboring New York University and the Cooper Union (from which Mr. Minskoff purchased the land under 51 Astor).
"There's an unparalleled reach to the city's young intellectual talent," said Paul Glickman, a vice chairman at Jones Lang LaSalle who was tapped by Mr. Minskoff to lease the building alongside Mitch Konsker, Cynthia Wasserberger and Peter Riguardi.
The LEED Gold-rated building features ceiling heights between 14 and 18 feet, an outdoor plaza off Astor Place and a 15,000-square-foot rooftop terrace on the fifth floor. Three storefronts wrap around the ground floor, and a school will occupy a second-floor space. What's more, the black-and-white granite lobby will be anchored by a "14-foot candy apple red balloon rabbit" sculpture by Jeff Koons.
"It's probably going to be one of the most iconic sculptures that Jeff Koons has ever done in his career," said Mr. Minskoff, who is known outside of the real estate industry for his impressive art collection.
A recent stat from Jones Lang LaSalle shows that between 1985 and 2010, London replaced 50 percent of its office stock while New York replaced just 10 percent.
Messrs. Minskoff and Glickman argue that the asking rents, between $88 and $115 per square foot for the top floor, are comparable to new construction in Midtown South. The project will capitalize on the construction lull, even as Hudson Yards and projects in its vicinity aim to lure the latest wave of young, hip tenants to the West Side of Manhattan.
"These developments that are going up on the West Side need to create their own infrastructure, and that will take another 10 to 15 years … if one has the patience," he said.
51 Astor Place
,
American Express
,
Cooper Union
,
Cynthia Wasserberger
,
Dow Jones
,
Edward Minskoff
,
Hudson Yards
,
Jeff Koons
,
Jones Lang LaSalle
,
McDonald's
,
Merrill Lynch
,
Mitch Konsker
,
New York University
,
Oppenheimer
,
Paul Glickman
,
Peter Riguardi
,
Ray's Pizza
,
World Financial Center