Midtown South: What a Difference a Decade Makes
---
---
A decade ago, a walk down Fifth Avenue near 17th Street would have included a stop at advertising firm Geer DuBois, and a walk farther north on Park Avenue South would have culminated in a visit to Angelo & Maxie's Steakhouse.
Both were pioneering tenants, willing to take a chance on the less desirable precincts of Midtown South—and both are gone.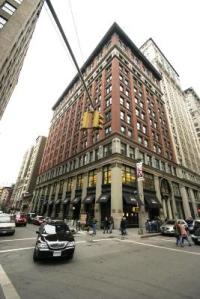 Following a 10-year lurch from grit to glam, much of the Flatiron District and surrounding areas in Midtown South have experienced some of the most notable rental rate increases and flights to quality in all of Manhattan, brokers and landlords told The Commercial Observer.
Today, the Angelo & Maxie's space at 233 Park Avenue South houses Vic & Anthony's Steakhouse, and the building that counted Geer DuBois as a tenant—114 Fifth Avenue—was acquired by L&L Holdings earlier this year and now boasts Banana Republic as a retail tenant.
So dramatic has the change been that rents in Google's current headquarters at 111 Eighth Avenue have risen more than 160 percent since the late 1990s, when space was renting for approximately $25 per square foot, a relative steal compared with the Midtown office market.
The now-recognizable address was once home to printing and storage businesses—high-end, but scarcely the same building that today also houses Nike's New York corporate offices, among other big names.
"We felt we were a bargain then," said Paul Pariser, co-chief executive officer at Taconic Partners, the building's former owner. "We were even less expensive than the traditional Downtown market."
Even restaurateurs who were early entrants into the market, such as Steve Hanson and Danny Meyer, have adapted to the changing demographics. Longtime New York favorites such as Mr. Hanson's Blue Water Grill and Mr. Meyer's Union Square Café and Gramercy Tavern have been joined in recent years by Wildwood Barbeque, Blue Smoke and the ever-popular Shake Shack in Madison Square Park.
"There were always fun, trendy places," said Andy Peretz, executive vice president at Cushman & Wakefield. "But it's gotten better."
Dining is one industry that has been ever-present in Midtown South, arriving well before the higher-end commercial tenants.
"Dining's been hot down there," said David Falk, president of the New York tristate region at Newmark Grubb Knight Frank. "You had these large spaces with high ceilings—loft-type spaces. So, years ago, restaurants opened on 18th Street or Park Avenue South."
Now, new restaurants are making previously unfashionable pockets of Midtown South more sought-after.
"Look at the Ace Hotel, that nook and cranny there [at 29th and Broadway] that just made that area more desirable," Mr. Peretz said. "And Shake Shack gave NoMad credibility."
Many of the original creative tenants of Midtown South—architecture, advertising, engineering and public relations firms—are no longer able to afford the market's skyrocketing rents. Tenants that arrived in the market early, paying $25 per square foot, are now faced with asking rents as high as $65.
Geer DuBois, considered a Midtown South pioneer when it moved to the market in the early 1980s, is no longer in business. "There's a reason I don't mention any of those firms today: they can't afford the rents," Mr. Falk noted.
"The amount of tenants looking in the market that have the budget, the wherewithal and the credit to pay above $65 a foot is a small portion of the market," Mr. Falk added. "The rest of the market has needs, but they can't afford it."
111 eighth avenue
,
114 Fifth Avenue
,
233 Park Avenue South
,
ACE HOTEL
,
Andy Peretz
,
Angelo & Maxie's Steakhouse
,
Banana Republic
,
Blue Water Grill
,
Cushman & Wakefield
,
Danny Meyer
,
David Falk
,
Geer DuBois
,
Google
,
Gramercy Tavern
,
L&L Holdings
,
Newmark Knight Frank
,
Nike
,
Paul Pariser
,
Steve Hanson
,
Taconic Partners
,
Union Square Cafe
,
Vic & Anthony's Steakhouse