EverBank Inks Valley National Sublease at TIAA-CREF's 780 Third Avenue
---
---
Jacksonville, Florida-based EverBank has inked a 5,118 square feet sublease at its first New York location at 780 Third Avenue in Midtown East, The Commercial Observer has learned.
The sublease from Valley National Bank is for part of the 16th floor, which was already built out and designed for the needs of a bank, making for a perfect match.
"We acted immediately when we found out that Valley National was offering space at this location," said CBRE (CBRE)'s Arkady Smolyansky, who represented EverBank with Gerry Miovski and Oliver Barakat, who works out of CBRE's Florida offices.  "The space at 780 Third Avenue was already built and furnished, allowing us to get EverBank a great space quickly and with minimum up-front capital expenses.  It made a lot of sense."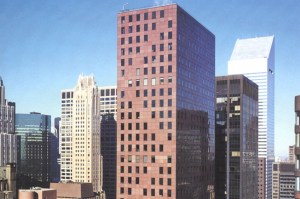 Sources familiar with the deal and the building said rates run in the high-$40's per square foot.
Located between 48th and 49th streets, 780 Third Avenue is home to several hedge funds and services a number of other high end financial firms.  A string of financial services firms are elsewhere in the immediate neighborhood, with many banks along Lexington and Park Avenue.
"That part of town has a lot of financial users and it's convenient to Grand Central [Terminal]," Mr. Smolyansky said.
The 50-story, column-free, 463,599-square-foot building contains a 154-seat audio-visual presentation theater and a computer learning center, and the open floor space with perimeter offices makes for great efficiency and collaboration, Mr. Smolyansky added.
EverBank, which recently was among the sponsors of the Tampa Bay Championship golf tournament, provides a range of financial products and services to nationwide clients and was waiting for a chance to break into the New York market, sources said.
Theodora Livadiotis, Steve Braun, Richard Bernstein of Cassidy Turley represented Valley National Bank.  Ms. Livadiotis and Mr. Braun did not immediately return calls seeking comment.  Mr. Bernstein could not be reached.
The building owner, asset management firm TIAA-CREF, acquired a stake in the Frank Gehry-designed building at 8 Spruce Street, New York by Gehry, for a reported $250 million.
780 Third Avenue
,
8 Spruce Street
,
Arkady Smolyansky
,
Cassidy Turley
,
EverBank
,
Frank Gehry
,
Gerry Miovski
,
Grand Central
,
New York by Gehry
,
Oliver Barakat
,
Richard Bernstein
,
Steve Braun
,
Theodora Livadiotis
,
Valley National Bank
,
CBRE
,
TIAA