Douglas Elliman Tapped to Market Retail Space at 410 Columbus Avenue
---
---
Retail leasing at 410 Columbus Avenue will undergo a new strategy now that ownership has selected Douglas Elliman's Faith Hope Consolo and Joseph Aquino to market over 600 square feet of space currently occupied by Berkley Girl. The current tenant's lease expires in June, according to Ms. Consolo, chairman of Douglas Elliman's Retail Group.
Douglas Elliman previously leased an adjacent space at the address to jeweler Alexis Bittar. Asking rent is approximately $300 per square foot.
"We are trying to bring a different type of retailer to the Upper West Side," Ms. Consolo told The Commercial Observer. "We are trying to bring a little bit of Madison Avenue to the Upper West Side."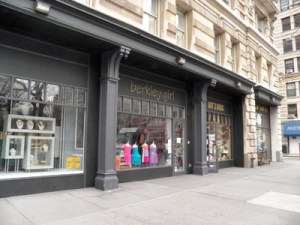 The space includes a 90-square-foot mezzanine and 20 feet of frontage in addition to the 600-square-foot ground level. The building, owned by Orleans Realty LLC, is located between 79th and 80th Streets, facing the American Museum of Natural History and Theodore Roosevelt Park.
"We are delighted to be participating in a virtual facelift of this vibrant and distinct area," Ms. Consolo added in a statement. "Over the years, it has changed from a corridor of sleepy mom-and-pop groceries to a haven for inventive design. Now we hope to deliver even more fashion excitement."
Previously, the Douglas Elliman Retail Group has represented landlords on the Upper West Side in transactions with Barneys Co-op, Papyrus, L'Occitane and others.
"This shop is in the heart of one of the strongest family-oriented, affluent neighborhoods in Manhattan," added Mr. Aquino, executive vice president, in the statement. "It is also serendipitously located across from an internationally renowned museum and park that are tourist meccas."
Other retailers located nearby on Columbus Avenue include Patagonia, Polarn O. Pyret, Mint, Liana, Malia Mills and Olive & Bette's.
410 Columbus Avenue
,
Alexis Bittar
,
american museum of natural history
,
Barneys Co-op
,
Berkley Girl
,
Douglas Elliman Retail Group
,
Faith Hope Consolo
,
Joseph Aquino
,
L'Occitane
,
Liana
,
Malia Mills
,
Mint
,
Olive & Bette's
,
Orleans Realty LLC
,
Papyrus
,
Patagonia
,
Polarn O. Pyret
,
Theodore Roosevelt Park