Direct Available Manhattan Office Space Reaches Four-Year Low, Reports C&W
---
---
A Cushman & Wakefield report released today finds that there was less direct available office space in Manhattan in the first quarter than at any point since April of 2009.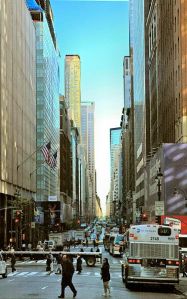 So far this year, Class A, B and C office leasing activity totals 5,633,974 square feet, a 2.3 percent decline from the same period last year. The total vacancy rate across 1,401 buildings held steady at 9.1 percent. The average rental rate edge up 1.2 percent, to $59.69 per square foot.
Direct available space totaled 29,484,016 square feet; 6,192,018 square feet of space was available for sublease. Leasing activity in Class A buildings saw a 9.1 percent spike, while Class C activity plummeted nearly 45 percent from the same period last year.
Other numbers that stood out in the report included a 43.6 percent surge in Penn Station area leasing activity. Meanwhile, Murray Hill's leasing activity dropped by 54. 7 percent. Of neighborhoods with negative total absorption rates, Hudson Square/West Village had the dubious distinction of topping the list with 432,885 square feet of newly unoccupied space. Madison and Fifth Avenue's 14.1 percent vacancy rate was the highest in Manhattan. The average asking rents in those corridors were also the city's most expensive, at over $98 a square foot.