Besen & Associates Arranges $23 M. Sale of Tilden Hall in East Flatbush, Brooklyn
---
---
Besen & Associates has arranged the $22.9 million sale of a nine-story, 86,360-square-foot city-run transitional housing facility for homeless families at 2520 Tilden Avenue in East Flatbush, Brooklyn.
Known as Tilden Hall, the nine-story residential building one block east of Bedford Avenue features 117 apartments and rests in a neighborhood characterized by row houses, cottage homes and an array of mom and pop stores.
It is leased to Highland Park Development, which signs bi-yearly service agreements with the city and its Department of Homeless Services to provide transitional housing, counseling and rehabilitation programs for families in need, which made the transaction stickier than your average multifamily deal, but also more promising for the buyer, United Realty Trust.
"The due diligence was more complex than your standard multifamily transaction," said Greg Corbin of Besen & Associates, who arranged both sides of the transaction with business partner Amit Doshi.  "United Realty Partners acquired great bricks with an outstanding cap rate."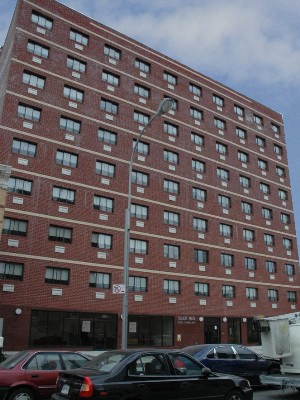 The sale is the latest in a streak arranged by Mr. Corbin and Mr. Doshi, who closed 18 deals since the beginning of the fourth quarter, including the $47.5 million sale of a pre-war, mixed-use property at 214-218 West 89th Street in Manhattan.
"By working in every borough, parlaying existing relationships as well as new ones, we were able to sign this significant number of deals," Mr. Doshi said.
"The Tilden project was extremely difficult from several angles," he added.  "You needed a sophisticated purchaser who understood the lease with the city."
The property, built in 2004, has a community room, children's classroom and playroom, outdoor park, indoor parking and office space for more than 20 employees.
The new owner, United Realty Trust, plans to make the property part of a real estate investment trust, for which it plans to offer up to 100,000,000 shares of common stock in its initial public offering.
"Tilden House represents the typical investment profile for the first of our Dual Investment Strategies," said Jacob Frydman, CEO and chairman of United Realty Trust, in a prepared statement.  "It is a stabilized income-producing property with an inflation-protected underlying lease."
The first 5,000,000 shares are being offered at a price of $10.45 per share and the remaining 95,000,000 shares at $11.00 per share, including applicable fees and commissions.
"We believe that with this acquisition, United Realty Trust has shown itself able to identify and acquire off-market transactions in its primary market area, and to structure these transactions is a way that we believe will benefit our investors," added Eli Verschleiser, president of United Realty Trust.
United Realty Trust was formed in 2011 and plans to invest across a wide variety of commercial property types, including office, industrial, retail and hospitality properties, single-tenant properties, multifamily properties, age-restricted residences and in other real estate-related assets.
As of September 2012, with the termination of the city's Advantage program, over 9,000 more homeless people are now in the system, bringing the total to over 46,000, the highest number of sheltered people in city history, according to published reports.
214-218 West 89th Street
,
2520 Tilden Avenue
,
amit doshi
,
Besen & Associates
,
Department of Homeless Services
,
Eli Verschleiser
,
Greg Corbin
,
Highland Park Development
,
Jacob Frydman
,
Tilden Hall
,
United Realty Trust