Yeshiva University Flips Two Buildings in Latest Sell-off
---
---
Yeshiva University's selling spree continues with the announcement that ClearRock Properties and Juster Properties have purchased two of the school's Midtown Manhattan office properties for $29 million and plan to redevelop them.
One is a 93,700-square-foot, 12-story block-through office building at 9 East 38th Street; and the other is a 7,400-square-foot commercial townhouse at 14 East 39th Street with 22,200 square feet of air rights.
ClearRock announced that it has launched a $10 milion capital improvement program to reposition the properties with the help of architectural firm Spector Group, which will create new lobbies and upgrade façade, storefront, elevators, tenant corridors, restrooms and windows.  A "high-end pre-built program" will be implemented and a roof deck is also being considered.
"The redevelopment will add substantial value to the property, and give companies wanting to be near Grand Central a polished, boutique option at reasonable pricing," said ClearRock Properties Managing Principal Steve Grant, in a statement.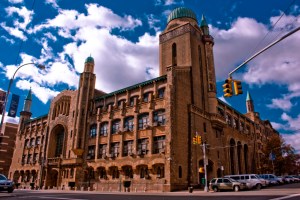 Yeshiva University flipped the properties after purchasing them from the Gray Block Estate just last year, city records show.
Last month, the school sold a portfolio of three office buildings for $87.5 million and in November it sold off a lecture hall at 237-241 East 34th Street in Murray Hill for $15.5 million, as reported by The Commercial Observer.
ClearRock Properties also owns 920 Broadway (with The Carlyle Group) and a number of properties in Connecticut and Massachusetts; and Juster Properties' portfolio encompasses more than 1.5 million square feet.