Malkin Takes Manhattan: After Snag, IPO Vote Next Month Expected to Succeed
---
---
A giant gorilla-like creature scales the Empire State Building, clutching a beautiful blond woman. Fighter jets circle, machine guns shooting to kill. He pounds his chest, roaring, refusing to go down without a fight.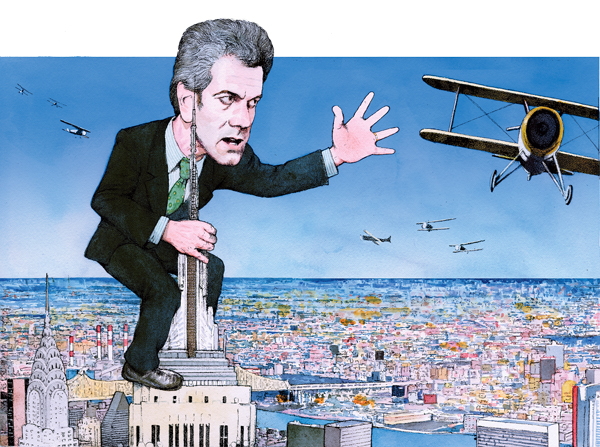 The final scene from the 1933 production of King Kong gripped viewers and put them on the edge of their seats like no other drama involving the Empire State Building has to this day. But the tale surrounding Malkin Holdings' bid to make the storied property part of a public Real Estate Investment Trust now runs a close second.
Peter and Anthony Malkin are facing a web of investors opposed to the REIT and find themselves defending the company against contentious lawsuits.
"It's great theater for sure," said Larry Longua, a clinical associate professor at NYU Schack. "There are a lot of twists and turns."
The fate of Kong, as he stood atop the tower, was inevitable. But the Malkins' future seemed to brighten last week when word broke that they were edging closer to obtaining the number of shareholder approvals needed to support the controversial $1 billion launch of the IPO and REIT, which would include 18 other properties in Manhattan, Connecticut and Westchester County.
"I feel very comfortable," Anthony Malkin told The Commercial Observer on Thursday, parsing his words carefully to avoid rattling the Securities and Exchange Commission. "We're working hard on behalf of our investors as far as moving this process along."
The latest update on the vote, filed by the Malkins with the SEC on March 15, took the form of a letter to unit-holders that encouraged the "very small percentage of participants who have voted against any proposal to consider now changing their votes to be for all the proposals."
Of those who had voted at the time, 90 percent of the tower's unit-holders had approved the plan, as did 95 percent at 1 Grand Central Place and 97 percent at 250 West 57th Street, which equated to roughly three-quarters of the votes needed.
Citing SEC rules, Mr. Malkin was unable to provide The Commercial Observer with the latest update on the voting or make any projections or predictions, but some viewed the SEC filing as indicative of imminent success.
"It sounds like they have generated enough momentum to make this thing happen," said one Malkin colleague, an executive at a leading real estate firm in New York City.
But the controversial plan requires support from holders of 80 percent of the 3,300 units owned by Empire State Building Associates LLC to proceed, and only two-thirds of the total unit-holders had voted at the time.
Meanwhile, a mounting movement that began over a year ago and culminated in a class-action lawsuit against the Malkins is poised to block the REIT from becoming a reality—and perhaps to make their plans more difficult one way or another.
(click below for page 2)
250 West 57th Street
,
Andrew Penson
,
Anthony Malkin
,
Boston Properties
,
brookfield office properties
,
Empire State Building
,
Empire State Building Associates LLC
,
Heitman
,
helmsley spear
,
King Kong
,
Larry Longua
,
Leon Jonas
,
Leon Meyers
,
Leona Helmsley
,
malkin holdings
,
NYU Schack
,
One Grand Central Place
,
Peter Malkin
,
Richard Edelman
,
Robert Machleder
,
Securities and Exchange Commission
,
Simon Properties
,
SL Green Realty Corp.
,
Steve Edelman
,
Tim Pire
,
Vornado Realty Trust