Law Firm Expands at Silverstein's 1177 Sixth Avenue
---
---
Law firm Drinker, Biddle and Reath has signed a lease for the 15,375-square-foot 38th floor at Silverstein Properties' 1177 Sixth Avenue.
The firm is expected to move into their new office space in June or July of this year following a renovation, according to Jane Roundell, senior vice president at Cresa, who represented the tenant.
"They will be taking advantage of the fact the space was partially built out and will adapt the existing installation," noted Jeremy Moss, senior vice president at Silverstein. Asking rents on similar floors in the building are in the low-$80s per square foot, he said.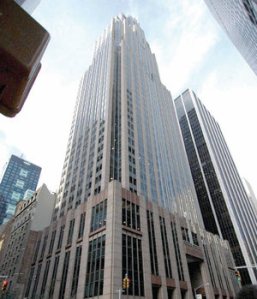 "We are delighted to see them expanding; its good sign for the economy to see tenants expanding and they've been a great tenant," Mr. Moss said.
Drinker, Biddle and Reath currently occupy equal square footage on the 41st floor, but have outgrown the space. As reported by The Commercial Observer, Drinker, Biddle and Reath moved into the building in 2011.
"On 41 they are totally full," Ms. Roundell said. "Some of the attorneys that have recently joined are in temporary space. The minute [the 38th floor] is ready, they will move in."
The firm picked its New York location due to the building's visibility, central location and high quality, said Mr. Moss. "They recognized they would have the ability in the tower to expand by increments that would be appropriate for their size."
Silverstein Properties currently has leases out to all remaining space in the base of the building, Mr. Moss said. "That only leaves us with the tower floors, which is the best space in the building."
Silverstein was represented in-house by Mr. Moss. Drinker, Biddle and Reath was represented by Cresa through Ms. Roundell and Jeffrey Baker. The lease was reported earlier this week by Crain's.