Hill Country Coming to Downtown Brooklyn
---
---
Hill Country has signed a long-term lease for 11,000 square feet at 345 Adams Street in Downtown Brooklyn, it was announced today.
The Texas-themed restaurant operates two locations in Manhattan, at 30 West 26th Street and 1123 Broadway, the site of Hill Country Chicken. Hill Country also hosts live music at their Boot Bar.
Hill Country will occupy space at 345 Adams alongside Panera Bread and Potbelly. The barbeque restaurant will also share a pedestrian plaza along Adams Street and Willoughby Street with Shake Shack.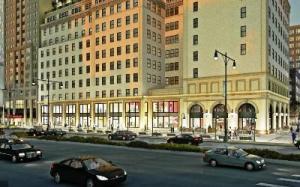 The restaurant is expected to open in late 2013 following a thorough renovation to the space.
"This is perfect for Brooklyn and perfect for Adams Street," Josh Muss of Muss Development, the landlord, told The Commercial Observer. "The location is perhaps in the most important business section of Downtown Brooklyn."
Muss Development acquired the first two floors of 345 Adams Street from the City of New York in 2007. Muss has undertaken a capital improvement plan to transition the space from offices to a retail condo.
As previously reported by The Commercial Observer, Bright Horizons Family Solutions also signed a long-term, 15,000-square-foot lease at 345 Adams Street. Bright Horizons operates a full-service child care center.
Ariel Schuster and Brian Segal, both of RKF, represented Muss Development in the Hill Country leasing deal.
345 Adams Street
,
Ariel Schuster
,
Brian Segal
,
Bright Horizons
,
Food & Drink
,
Hill Country
,
Josh Muss
,
Muss Development
,
Panera Bread
,
Potbelly
,
RKF
,
Shake Shack