Clarion Partners Signs Direct Lease at 230 Park Avenue
---
---
Real estate investment management firm Clarion Partners has inked a 10-year lease, beginning in May 2014, for 71,000 square feet at 230 Park Avenue, it was announced yesterday. Asking rent for the space was in the mid-$60s per square foot.
Clarion, a former subsidiary of ING, is a long-term tenant in the building. The firm's current occupancy agreement is as a subtenant of ING, according to Brian Robin, president and chief operating officer at Monday Properties, the landlord.
The new agreement is a direct lease of the building's 12th floor. Currently, Clarion occupies the entire 12th floor and part of the 15th floor.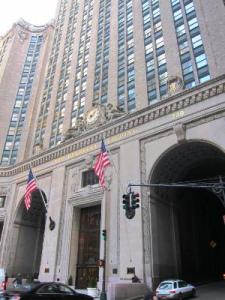 Monday Properties and Clarion have been working on the new lease since the fourth quarter of last year, Mr. Robin noted. "The process was more about documenting a fresh lease," he said.
Clarion was represented by Mark Ravesloot and William Iacovelli of CBRE in the transaction. Jordan Berger of Monday Properties and Frank Doyle of Jones Lang LaSalle represented the landlord.
Clarion Partners was acquired from ING by the firm's management in partnership with Lightyear Capital in 2011, according to a statement.
"Clarion is a great name and a great business, it's terrific to have them, to be able to cement this down and continue a long-term relationship," Mr. Robin said.
As reported by The Commercial Observer, ING Investment Management signed a 10-year lease for 10,500 square feet at 230 Park Avenue last year. As of that time, ING occupied a total of 220,000 square feet in the building.
230 Park Avenue
,
Brian Robin
,
Clarion Partners
,
frank doyle
,
ING
,
Jones Lang LaSalle
,
Jordan Berger
,
Lighyear Capital
,
Mark Ravesloot
,
Monday Properties
,
William Iacovelli