Zero Halliburton Set to Open Midtown Location
---
---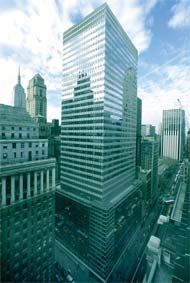 Zero Halliburton Luggage is opening a new location in Midtown.
The luggage designer will be opening a 3,900-square-foot retail location at Brookfield Properties' 300 Madison Avenue. The retail space is located on the corner of 42nd Street and Madison Avenue, a block away from the heavily trafficked Grand Central Terminal and Bryant Park.
Zero Halliburton's distinctive aluminum cases have iconically appeared in a few hundred movies and television shows.
"[Their attraction to the location] was a mix of different things," said Brandon Singer of Cushman & Wakefield. "They are right around their customer in Midtown. There are millions of square feet of office space around them. There are tourists as well. It is a major cross street–42nd and Madison. This is as good as it gets."
Mr. Singer added that the brand operates 50 stores in Asia and that this is their flagship store in the United States. Zero Hallibruton plans to expose the public to their production and grow in the US market.
Office leasing efforts at 300 Madison Avenue are led by in-house brokers Duncan McCuaig and Sarah Pontius. Retail leasing for the 5,000 square foot of retail space is led by Edward Hogan who represented the landlord in the transaction. Mr. Hogan did not respond for comment, however.
A leasing team from Cushman & Wakefield consisting of Joanne Podell, Brandon Singer, Ian Lerner, Christian Stanton and Jeff Cushman represented the tenant.
"We like to deal with quality tenants," said Ms. Podell. "The reason for that is when you go to landlords, like Brookfield, you don't want to go there unless you can provide them with a tenant that is correct [for the space]. You want a tenant that sells the right product, that has the financials, that can pay rent, and that has a history of doing business."