Underground Visuals to Relocate to 263 West 38th Street
---
---
Underground Visuals, a digital printing facility, has signed a 10-year lease for a 10,000-square-foot space at 263 West 38th Street, The Commercial Observer has learned.
The asking price was $33 per square foot, according to Scott Galin, principal at Handler Real Estate, who represented the landlord. Peter Newman and Roseanne Lucarelli, also of Handler, represented the tenant.
The company currently occupies space at 307 West 38th Street and will relocate during the third quarter of 2013, Mr. Galin said. The company's search for new space lasted approximately three months, he added.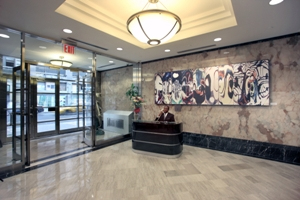 Underground Visuals is experiencing a period of growth and the new 10,000-square-foot floorplate will offer a better configuration than the company's current office space, Mr. Galin noted.
263 West 38th Street is a 170,000-square-foot building with approximately 30 tenants, Mr. Galin said. Current tenants include the American Symphony Orchestra and non-profits such as the International Rescue Committee and Puppies Behind Bars. A number of professional firms are also headquartered in the building.
As reported by The Commercial Observer, executive search firm Kirkland West, LLC signed a lease for a 4,800-square-foot unit on the eighth floor of 263 West 38th Street in May 2012.
Handler has been active on 38th Street. The firm recently arranged for the Creutzfeldt-Jacob Disease Foundation's relocation from Ohio to New York, The Commercial Observer reported earlier this week. The non-profit is now occupying 2,205 square feet at 341 West 38th Street.
263 West 38th Street
,
307 West 38th Street
,
341 West 38th Street
,
American Symphony Orchestra
,
Creutzfeldt-Jacob Disease Foundation
,
handler real estate
,
International Rescue Committee
,
Kirkland West LLC
,
Peter Newman
,
Puppies Behind Bars
,
Roseanne Lucarelli
,
Scott Galin
,
underground visuals