Solow Sues Banks over Manipulation of Libor
---
---
7 West 57th Street Realty Co., a real estate company controlled by Sheldon Solow, filed a lawsuit in federal court yesterday against Citibank, Bank of America (BAC), Barclays (BCS), JPMorgan and a number of other banks for allegedly conspiring to manipulate the London Interbank Offered Rate (Libor).
The complaint alleges the defendant banks' conspiracy to manipulate Libor resulted in the seizure of Mr. Solow's $450 million bond portfolio by Citibank. The portfolio was pledged as collateral for Libor denominated loans, the complaint says, and was comprised largely of high-grade municipal bonds. Subsequently, Solow was obligated to pay a $100 million judgment.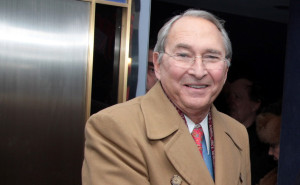 "It was only after a lengthy process of review of the exact Libor bids submitted by the defendant banks that Mr. Solow realized they had actually increased their self-reported Libor rates during the relevant period for when Citibank suddenly claimed Mr. Solow's bond portfolio dropped," Andrew Hayes, Mr. Solow's attorney, told The Commercial Observer earlier today.
Mr. Hayes said he hopes Mr. Solow's case will be heard individually and will not be included amongst those filed by bond issuers. "Because these claims deal with a very short period of time and with an individual investor and not an issuer, we feel they are distinct from other claims before the judge," he said.
Mr. Solow decided to assign the claims to one of his companies in order to underscore the complaint is about Libor manipulation, Mr. Hayes said.
The notoriously litigious Mr. Solow has been known to bring complaints against partners, rivals and even friends and family. A feature on Mr. Solow, published in The Commercial Observer last year counted close to 400 cases involving the billionaire in court databases.
It is possible similar complaints could arise in the future, Mr. Hayes said—although he conceded that not many individuals have a bond portfolio the size of Mr. Solow's.
"It does illustrate how Libor manipulation cuts many different ways and can hurt many different people—not just large institutions," Mr. Hayes said.
A second attorney listed on the complaint, Daniel Mogin, did not immediately returns calls.