On Top of the World: SL Green's Steve Durels on Last Year's Viacom Deal and the Projects Reshaping Manhattan
---
---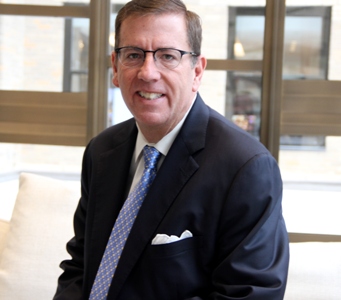 When Viacom pulled the trigger on its 1.6-million-square-foot renewal and expansion at 1515 Broadway last year, SL Green Realty served up a stinging rebuke to swirling rumors that the media giant would relocate.
But company executives with the city's largest landlord were well aware that the firm's most coveted tenant had toyed with the idea of stomping away from its 54-story Midtown playground if its needs weren't met.
That was clear when Viacom executives called Steve Durels, SL Green's director of leasing, in April of last year with a blunt message, setting off a series of round-the-clock meetings that would seal one of the biggest deals in Manhattan office leasing history in just seven days.
"They said, 'We want a proposal within 24 hours, and within 72 hours of that, we're either going to have a final term sheet and make a deal or there will be no deal,'" Mr. Durels recalled during an interview with The Commercial Observer. "It was the difference between the building going dark and 1.6 million square feet of occupancy."
For seven straight days, bleary-eyed executives at SL Green, Viacom and CBRE, which represented Viacom, conducted meetings that lasted into the early-morning hours. The meetings even cut into dreams, but at least they prevented a nightmare that would have consisted of a 1.6-million-square-foot gaping hole.
"They were literally 24-hour meetings, with phone calls to each side's CEO, waking them up in the middle of the night, at 2 o'clock in the morning, with new issues," Mr. Durels said. "Then you would go back to sleep and you'd get a phone call at 6 in the morning with something else."
"There weren't many lighthearted moments, because everyone felt the pressure," he went on. "But to be able to get a deal like that done in a week was one for the books."
The 15-year deal sealed Viacom as the sole office occupant in the $1.4 billion building. In addition to that feat, SL Green completely repositioned the retail space at the building, with Viacom's MTV studio and Aeropostale among its tenants. An old movie theatre and "a lot of dead space" was renovated to house the Best Buy and Minskoff theatres, the latter of which is home to The Lion King.
But it was just one shining example of the kind of building transformations and development projects that have planted SL Green's unmistakable footprints across the city's landscape.
At 3 Columbus Circle, the company swooped in like a white knight with Joe Moinian for a $100 million renovation that landed anchor tenant Young & Rubicam, which occupies 340,000 square feet in the building. It transformed 100 Park Avenue from a white, nondescript brick building into a high-profile glass gem, and now it has embarked on a joint venture with Vornado Realty Trust at 280 Park Avenue, the site of a massive $150 million redevelopment plan.
"It's going to be like nothing else on the avenue when we're done with it," Mr. Durels said. "The world is going to step back and look at that building and say, 'Wow, that's an architectural masterpiece.'"
The renovation at 280 Park will include a full-block-long lobby, a new façade, new infrastructure and an atrium space with an indoor museum-quality fountain. And among other projects on deck, 10 East 53rd Street and 180 Maiden Lane will be renovated after Harper Collins and AIG, respectively, move out in 2014.
"In years past, we've stepped our toes into other submarkets surrounding the tristate area and beyond, but we're more focused on Manhattan now than we ever have been," Mr. Durels said.
10 East 53rd Street
,
100 Park Avenue
,
1515 Broadway
,
1552 Broadway
,
180 Maiden Lane
,
3 Columbus Circle
,
521 Fifth Avenue
,
635 Avenue of the Americas
,
641 Avenue of the Americas
,
Aeropostale
,
AIG
,
American Eagle
,
Best Buy
,
CBRE
,
Harper Collins
,
Joe Moinian
,
John Deere
,
McDonald's
,
Minskoff theatres
,
mtv studios
,
Pace University
,
SL Green Realty Corp.
,
T.G.I. Friday's
,
the lion king
,
University of Iowa
,
Viacom
,
Vornado Realty Trust
,
Young & Rubicam