By Design Signs 21,711 SF at Leon Charney's 1411 Broadway
---
---
By Design has signed a 21,711-square-foot lease at 1441 Broadway, a building owned by real estate tycoon Leon Charney.
The company takes a full floor in the building, in a space formerly occupied by Fifth and Pacific Companies (formerly Liz Claiborne Inc.), which will double as an office space and showroom.
"We're glad to have them and we've almost backfilled all the space in the building – they're a welcome addition," said Bruce Block, Mr. Charney's right hand man at L.H. Charney & Associates, the building ownership.  "They're in the apparel and fashion industry and our building is predominately fashion.  They will be able to use some of the existing build-out space on the floor."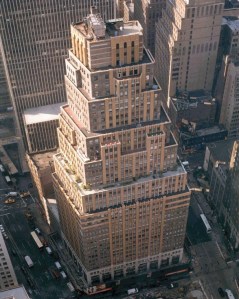 The 38-story, 550,000-square-foot building was designed and constructed by Buchman & Kahn in the late 1920s. Notable tenants in addition to Fifth and Pacific Companies, which retains three full floors in the building, include    Jones of New York, Tommy Hilfiger and H.H. Brown, the maker of shoes and leather accessories.
Ownership recently renovated the lobby with new stonework, lighting and elevated ceilings, and it is in the process of updating elevators with new cabs and electrical systems, Mr. Block said.
Richard Doolittle of Murray Hill Properties represented the landlord and Mark Kritzer of Millennium Realty represented the tenant.  The brokers did not return calls seeking comment in time for publication.
Mr. Charney is an American real estate tycoon, author, philanthropist and political pundit, placing number 353 on Forbes' list of the wealthiest Americans in March of last year.
He reportedly played a role as a backdoor player in the sealing of the Camp David Peace Treaty between Israel and Egypt, also serving in the late '70s as unofficial adviser to former U.S. President Jimmy Carter.
1441 broadway
,
bruce block
,
buchman & kahn
,
by design
,
Fifth and Pacific Companies
,
h.h. brown
,
Jimmy Carter
,
Jones of New York
,
L.H. Charney Associates
,
leon charney
,
Liz Claiborne Inc.
,
Mark Kritzer
,
Millennium Realty
,
murray hill properties
,
richard doolittle
,
Tommy Hilfiger