Korea-Based Hana Bank Renews 7,318 SF at 650 Fifth Avenue
---
---
Korea-based financial institution Hana Bank has signed a 10-year, 7,318 square-foot office lease renewal on the 15th floor at 650 Fifth Avenue, where ownership plans to reap the rewards of an ongoing capital improvement project.
The 36-story, 382,500 square-foot office building located in the Plaza District on 52nd Street, on the northern edge of Rockefeller Center, recently underwent an $11 million lobby renovation, completed in July.
"The building has always treated them well and we're fortunate to retain them in the building," said CBRE's Paul Haskin, who represented owner 650 Fifth Avenue Company along with Robert Stillman and Zachary Freeman.  "I think they're excited to stay, particularly given the renovations the owner has completed, as they continue to improve the property."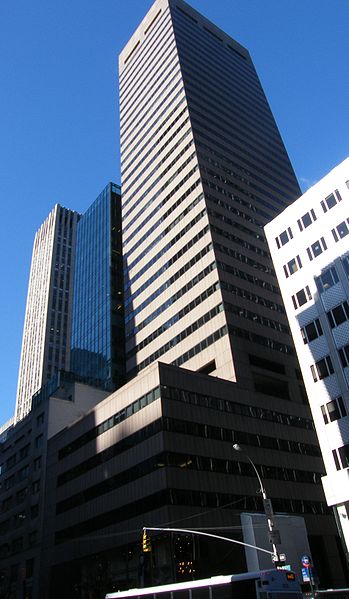 CBRE serves as the exclusive office leasing agent and property manager at the building, picking up the gig around the time the lobby renovation was completed last summer.
Ownership is currently budgeting to improve the common areas on each of the floors and upgrade security systems as the leasing efforts ramp up, Mr. Haskin added.
Floor plates below the 8th floor measure roughly 16,000 square feet, while those above it measure roughly 11,000 square feet (floor eight holds mechanical equipment).  There are availabilities on both lower and upper floors.
"This is a very strong product for the value tenants are receiving and we anticipate that as this product continues to improve and becomes more visible that we will continue to (increase) rental rates," Mr. Haskin said, declining to specify the rate Hana Bank locked in.
Hana Bank was represented by Soon Rhee and Norman Bobrow of First New York Realty, could not be reached.
The building, located along the renowned Fifth Avenue retail corridor, is home to a number of international banks – Sanin-Godo Bank, Sterling Bank and Delta Bank among them – as well as the Doris Duke Charitable Foundation and the offices of fashion designer Joseph Abboud.
"Coming right on the heels of the building's recent extensive capital improvement program, this transaction is further proof of our commitment to quality services and long-term tenant retention," said Dr. Houshang Ahmadi, president of the not-for-profit Alavi Foundation, the majority owner and managing partner of 650 Fifth Avenue Company, in a statement. "650 Fifth Avenue remains a premier New York City office location and we are pleased to negotiate a beneficial lease renewal for a respected financial organization such as Hana Bank."
650 Fifth Avenue
,
Alavi Foundation
,
Delta Bank
,
Doris Duke Charitable Foundation
,
Dr. Houshang Ahmadi
,
First New York Realty
,
Hana Bank
,
Joseph Abboud
,
Norman Bobrow & Company
,
Paul Haskin
,
Robert Stillman
,
Rockefeller Center
,
Sanin-Godo Bank
,
Soon Rhee
,
Sterling Bank
,
Zachary Freeman