HarperCollins Lands at 195 Broadway
---
---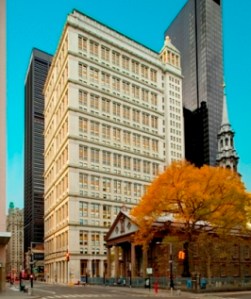 Publishing monolith, HarperCollins, signed 180,000-square-foot lease at 195 Broadway. The 15-year lease, signed January 25, will give the company four-and-a-half floors of the 1 million+ square foot building.
"Coming as it does on the heels of the recent Conde Nast signing at 1 World Trade Center, this becomes a very significant and transformative leasing transaction that bodes well for the continued resurgence of the downtown marketplace," said David Levinson, CEO of L&L Holding Company, which owns the building in partnership with Beacon Capital Partners. The landlord initially asked $47 per square foot for the space.
L&L would not discuss options attached to the lease that would give HarperCollins the option to expand its footprint in the future. The tenant expects to begin relocating from its current Midtown offices at 10 East 53rd Street in the spring of 2014.
CBRE's Mary Ann Tighe, Ken Rapp and Christopher Mansfield represented the publishing house in the transaction while the landlord was represented in-house by L&L's David Berkey and Andrew Wiener. Neither CBRE nor L&L responded to requests for comment following the announcement of the deal. HarperCollins did not respond to a call for comment by press time.
The building, designed by William Welles Bosworth and built in 1916, is located just east of the World Trade Center area and Path train; and west of the 2, 3,4, 5, J, Z, A and C subway lines. It has 29 floors, each consisting of an average 40,000+ square feet of space.
The building once served as the New York headquarters of AT&T. Advertising agency, Omnicom Group, leased a floor this past summer, taking 39,347 square feet of space. The company initially leased 180,000 square feet in the building in 2007 and now has a 260,000-square-foot footprint there. Other tenants include media companies Thomson Reuters Markets and The Knot Inc.
L&L Holdings owns several other city buildings in its portfolio, including 200 Fifth Avenue, 150 Fifth Avenue and The Metropolitan Tower at 142 West 57th Street, among others.