Demolished Dive Mars Bar Could Return
---
---
A third wave of mourning for dear departed dive Mars Bar crested yesterday when news broke that TD Bank had signed a lease at the former site of the punk-drunk-artist-squatter-hanger on haunt whose closure and demolition in 2011 was seen by many as (yet another) nail in the once-scruffy East Village's burnished coffin.
Now, a source familiar with the deal tells us that the lease includes a second retail space whose future tenant could assume the notorious Mars Bar's trade name and liquor license. The development company BFC Partners reached an agreement with the Mars Bar crew that would allow the next commercial tenant to occupy a 4,456-square-foot basement and ground floor space under the proud, stubborn  and–who knew?–business-minded Mars Bar auspices.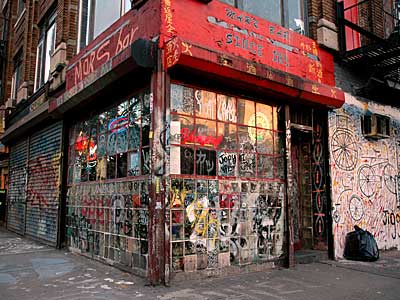 TD Bank, whose looming arrival at Second Avenue and First Street is viewed by some as progress–yet more A.T.M.s, fewer junkies mid-relapse–and others as an antiseptic insult to the neighborhood's ancient anarchic charms, will occupy 4,212 square feet in a 20-year lease with asking rents of $200 per square feet. The New York Post's Steve Cuozzo reported that STL Realty's John Oliveri represented BFC while Cushman & Wakefield's Joanne Podell represented the tenant.
The bank will rest beneath the apartment floors of BFC's recently topped off, 12-story Jupiter 21, the astronomically named project that spelled certain death for its planetary neighbor Mars Bar, which had operated at 25 East First Street since 1984.
Squalid neighbors of the old Mars including the cradle of punk CBGB (now a John Varvatos boutique), art hangout The Hole (still, amazingly, the similarly louche gay bar The Cock) and the more kid-friendly Amato Opera have all bitten the dust.
It's possibly but unlikely that a new Mars Bar at Jupiter 21 could bring back the original's fetid magic, but at least the neighborhood still has the Anthology Film Archives–an art-house fiend's art-house whose founder and programmer Jonas Mekas immortalized Mars Bar in a documentary–to keep the underground spirit alive.
Amato Opera
,
Anthology Film Archives
,
BFC Partners
,
CBGB
,
john varvatos
,
Jonas Mekas
,
Jupiter 21
,
Mars Bar
,
TD Bank
,
The Cock
,
The Whole