Cushman & Wakefield Marketing 100,000 SF Being Vacated by Pearson at 1330 Avenue of the Americas
---
---
Cushman & Wakefield has been appointed by RXR Realty as the exclusive leasing agent for roughly 100,000 square feet being vacated by Pearson at 1330 Avenue of the Americas, where ownership recently completed a capital improvement program and a rare signage opportunity awaits a prospective anchor tenant.
Floors 7 through 10, 14, 16 and 17 will come online in the 40-story trophy building in January 2014, after Pearson vacates the space, freeing up four sides of illuminated signage atop the building (the signage is currently branded "FT" for Pearson-owned Financial Times) for the new tenancy to broadcast its image into the Manhattan skyline.
"We want it to be the right image for the right company, and one that takes a meaningful presence in the building," said William Elder, leasing director with RXR Realty.  "This is a very rare opportunity that allows for top of building signage just outside of Times Square.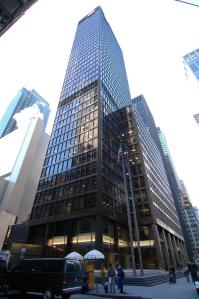 There are under ten other buildings in Manhattan that offer similar signage opportunities, said Mikael Nahmias, a senior managing director at C&W, part of the leasing team led by Bruce Mosler and including Tara Stacom, Jared Horowitz, Whitten Morris and Peter Alden.
"This is for any firm looking for a high-end presence with boutique atmosphere," Mr. Nahmias said.  "The large, rectangular floor plates have a nice high ratio of windows to floor space… with a lot of natural light coming in that reaches the entire space."
Base floors (six through nine) measure roughly 16,300 square feet, as is the 14th floor, while the rest of the upper are about 10,000 square feet each, and the available floors can be can be leased individually or together, he added.
RXR bought the building, located between 53rd and 54th Streets, in December 2010 for $400 million, city records confirm.  The building was built in 1965 and completely renovated in 2006, outfitted with a new lobby, elevator cabs and mechanical equipment.
In September of last year, the firm invested an additional $15 million in the building's plaza and garage space; retail storefronts were upgraded, and a new canopy and limestone columns replaced the aluminum paneling in the building's façade.
Current tenants include asset and investment managers Silvercrest and Artisan Partners, a number of hedge funds, and vintage jeweler Harry Winston.
1330 Avenue of the Americas
,
Artisan Partners
,
Bruce Mosler
,
Cushman & Wakefield
,
Financial Times
,
Harry Winston
,
Jared Horowitz
,
Mikael Nahmias
,
Pearson PLC
,
Peter Alden
,
RXR Realty
,
Silvercrest
,
Tara Stacom
,
Whitten Morris
,
William Elder