Winick Realty Group Selected to Lease One New York Plaza Retail Concourse
---
---
Winick Realty Group has been selected by Brookfield Office Properties to exclusively market 40,000 square feet of vacant sub-level retail space at One New York Plaza.
The space, damaged during Hurricane Sandy and slated to be rebuilt and repositioned, makes up the concourse level of the 2.6-million-square-foot Class A tower, with entryways on Whitehall, Broad and Water Streets.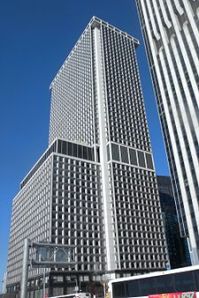 "There has been tremendous demand for retail space downtown but very little supply," said Kenneth Hochhauser, an executive vice president at Winick Realty Group, who is marketing the space with President Steven Baker and Joshua Siegelman, an associate director.  "As we open the concourse for leasing, we will curate it in a way that will be in accordance with the Class A office tower that sits above it."
Mr. Hochhauser said his team will target neighborhood convenience stores, as well as fast-casual or quick-service restaurants, to fill the space.  While in preliminary stages, the lineup might include tenants like Duane Reade and CVS, hair salons, juice bars, a fitness center, or restaurants in the vein of Chipotle, Cosi, Panera and Witchcraft.
"We think $60 a square foot is very achievable considering the vast amount of buying power that works and circulates around the concourse," he said, adding that Battery Park, which lies in close proximity, is among the most-attended national parks, yielding even more yearly visits than the Grand Canyon.
As reported last week by The Commercial Observer, Brookfield Office Properties was forced to gut the original 31,000-square-foot concourse at The Plaza Shops after severe flooding brought on by Sandy destroyed it.
The new 40,000-square-foot figure for the space being marketed is a function of the reconfiguration of storage and auxiliary office space that wasn't previously available, said Matt Cherry, a spokesperson with Brookfield Office properties.
The estimated 23-million-gallons of water that flooded the lower levels of the building were removed within a week of the storm's touchdown on the southern tip of Manhattan, but the space will not be ready until "well into next year," Mr. Cherry said, unable to be more specific.  "Our design and construction people are working through the options right now."
Many of the retailers in the space pre-Sandy were on short-term leases, in some cases month-to-month, and existing plans already called for a repositioning of the space, Mr. Cherry said.
The full list of former tenants, only some of which may ever return to the building, includes:  Mr. Soup, Gateway Newsstands, Salvatore's Men's Barbershop, Chase Manhattan ATM, Vivo Food, Subway, The Battery Conservancy, Dunkin Donuts and Argent Executive Polish.
"We are delighted to be associated with a premier landlord like Brookfield Office Properties, who has hired us to reposition this exciting retail site in a way that meets the needs of the many office workers, residents and tourists who have significantly altered the landscape of this neighborhood in recent years," said Steven Baker, president of Winick Realty Group, in a prepared statement.
1 New York Plaza
,
Argent Executive Polish
,
brookfield office properties
,
Chase Manhattan ATM
,
Chipotle
,
cosi
,
CVS
,
Duane Reade
,
Dunkin Donuts
,
Gateway Newsstands
,
joshua siegelman
,
Kenneth Hochhauser
,
matt cherry
,
Mr. Soup
,
panera
,
Salvatore's Men's Barbershop
,
Steven Baker
,
subway
,
The Battery Conservancy
,
the plaza shops
,
Vivo Food
,
Winick Realty Group
,
witchcraft