Fulton Maul: Culture Clash Ensues in Downtown Brooklyn
---
---
With the long-awaited Barclays Center open and new residential and mixed-use development projects popping up across Downtown Brooklyn, a retail conundrum is growing along the 17-block Fulton Mall.
The national and in some cases high-end retailers moving onto the strip paint a stark contrast to the long list of mom-and-pops, local discounters and jewelry shops that once almost exclusively lined the street.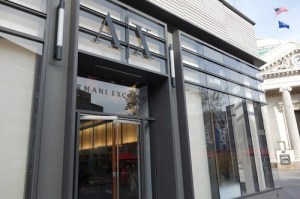 "There's a big push to get more notable retailers and prestigious retailers to take notice of Downtown Brooklyn," said Hymie Dweck, an associate director with Newmark Grubb Knight Frank Retail. "Some retailers see that and they want to join the party."
Tenants like Express, Aeropostale and Gap arrived after a Downtown Brooklyn rezoning in 2004 that made way for more commercial and residential development, and efforts by landlords and the city continue to attract national brands.
More recently, the small but growing organic grocery chain Khim's Millennium Market—until now a fixture only in Williamsburg—signed on to occupy retail space at the base of Brooklyn's tallest residential building, The Brooklyner at 111 Lawrence Street.
Century 21, H&M, T.J. Maxx, Victoria's Secret, Nordstrom Rack, Swarovski and Raymour & Flanigan are among those who have signed leases or are in talks to do so, brokers told The Commercial Observer.
"I think it's going to have a really positive impact," said Gene Spiegelman, an executive vice president with Cushman & Wakefield. "They're trying to upgrade the whole experience."
But there's at least some degree of friction on the ground. When the City Point development welcomed Armani Exchange last month, local residents flocked there—not to shop, but to protest.
"This isn't for us—why would we support something we can't afford?" Farragut Houses resident Nashaun Taylor told a New York Times reporter. "This store represents gentrification."
City Point, which replaces the Albee Square Mall, is an anchor for that gentrification, brokers said. The 500,000-square-foot, four-story building where Armani signed a 10-year lease—and where anchor tenant Century 21 will take 125,000 square feet in 2015—is part of what will ultimately comprise nearly 2 million square feet of retail and residential development space at City Point.
"That sort of started this whole beautiful evolution of hoteliers and other developers seeing the upside value to this incredible market," said Noel Caban, a vice president with CBRE's retail division, about City Point.
A growing student population, thousands of new residential units in the area, gentrification of neighborhoods like Clinton Hill and Boerum Hill, new hotels and millions in infrastructure spending by the city are fueling much of the retail interest.
Last month, Mayor Michael Bloomberg announced plans to construct three new residential and cultural projects on the last three city-owned Downtown Brooklyn parcels, including 600 new apartments (half will be affordable units).
"The city had a vested interest in transforming the area by upgrading infrastructure," Mr. Caban said. "And I think it's been incredibly effective and successful, so kudos to the city, kudos to the mayor, kudos to everybody."
Brooklyn Borough President Marty Markowitz may have summed up the new tone for retail development best in April 2010, when he released a YouTube video asking Steve Jobs to open an Apple store there.
"I know you're always dreaming up the next big thing," he wrote in an email purportedly typed on an iPad. "Here's a suggestion: hit the big time and bring an Apple store to Brooklyn!"
While that hasn't happened, the city and most real estate professionals generally view the influx of new developments favorably.  In fact, the new mix of retailers can cohabit, if not live in perfect harmony.
"I think there's always room for coexistence in any retail environment," Mr. Caban said. "The real challenge is, does your business model thrive within that community and can it thrive against the branding of H&M or Swarovski?"
In the end, it comes down to having a strong business model, understanding the market and finding an edge, he said.
"I deal with Foot Locker and I also deal with the local no-name guy," he added. "That no name guy might have a contract with Nike to get the hottest sneaker, and he knows his customer. Foot Locker might not be carrying that latest and greatest … so he's able to survive and thrive."
Mr. Spiegelman, the Cushman & Wakefield executive vice president, agreed.
"These stores that exist there today, they do very well and they have a customer," he said. "It might not look pretty, but they do very well."
111 lawrence street
,
Albee Square Mall
,
Apple
,
Armani Exchange
,
Barclays Center
,
Boerum Hill
,
CBRE
,
Century 21
,
City Point
,
Clinton Hill
,
Cushman & Wakefield
,
Downtown Brooklyn
,
Express
,
Foot Locker
,
Gap
,
Gene Spiegelman
,
H&M
,
Hymie Dweck
,
khim's millenium market
,
Marty Markowitz
,
Michael Bloomberg
,
Newmark Knight Frank
,
noel caban
,
Nordstrom Rack
,
Raymour & Flanigan
,
Steve Jobs
,
Swarovski
,
T.J. Maxx
,
the brooklyner
,
Victoria's Secret