Check Out Proposed Glass-Cube Retail Under 1633 Broadway
---
---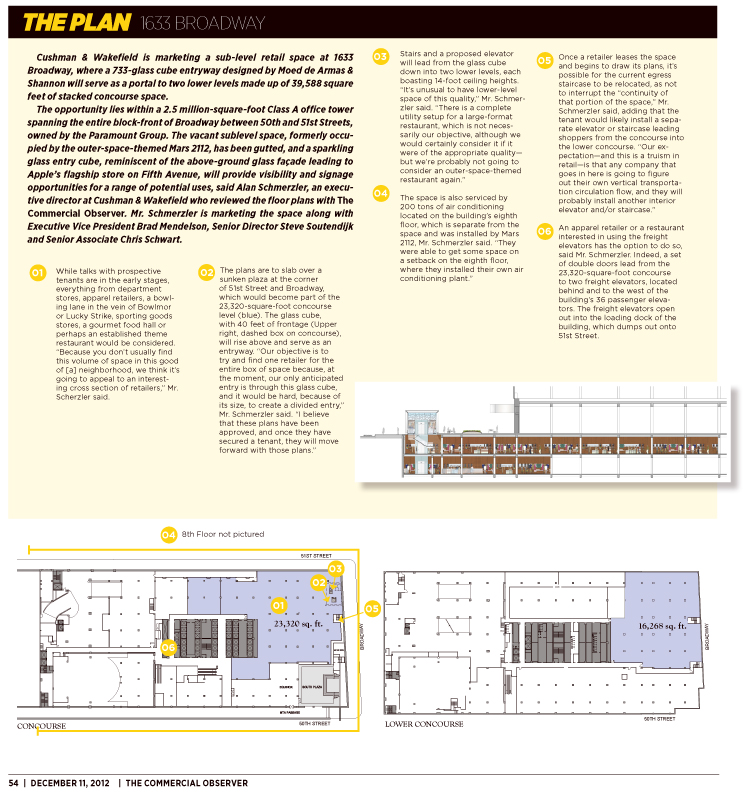 Cushman & Wakefield is marketing a sub-level retail space at 1633 Broadway, where a 733-glass cube entryway designed by Moed de Armas & Shannon will serve as a portal to two lower levels made up of 39,588 square feet of stacked concourse space.
The opportunity lies within a 2.5 million-square-foot Class A office tower spanning the entire block-front of Broadway between 50th and 51st Streets, owned by the Paramount Group.
The vacant sub-level space, formerly occupied by the outer-space-themed Mars 2112, has been gutted, and a sparkling glass entry cube, reminiscent of the above-ground glass façade leading to Apple's flagship store on Fifth Avenue, will provide visibility and signage opportunities for a range of potential uses, said Alan Schmerzler, an executive director at Cushman & Wakefield (CWK) who reviewed the floor plans with The Commercial Observer. Mr. Schmerzler is marketing the space along with Executive Vice President Brad Mendelson, Senior Director Steve Soutendijk and Senior Associate Chris Schwart.
<a title="View 1CO5400A1211 on Scribd" href="http://www.scribd.com/doc/116579192/1CO5400A1211″ style="margin: 12px auto 6px auto; font-family: Helvetica,Arial,Sans-serif; font-style: normal; font-variant: normal; font-weight: normal; font-size: 14px; line-height: normal; font-size-adjust: none; font-stretch: normal; -x-system-font: none; display: block; text-decoration: underline;">1CO5400A1211</a>[protected-iframe id="9bd84cf9145fa22a9cf68a2d47a1111c-39571588-35160208″ info="http://www.scribd.com/embeds/116579192/content?start_page=1&view_mode=scroll&access_key=key-i83543qxa372tjii47x" width="100%" height="600″ frameborder="0″ scrolling="no"]