Brooklyn Fixture Khim's Millennium Market Coming to Downtown Brooklyn High-Rise
---
---
Khim's Millennium Market – until now a fixture only in Williamsburg – has signed on to occupy the ground floor retail space at the base of Brooklyn's tallest residential building, The Brooklyner at 111 Lawrence Street, The Commercial Observer has learned.
The organic grocery inked the deal for the roughly 7,000 square feet of space and roughly 70 feet of frontage with Equity Residential following an intensive polling and vetting process by the building manager to find the right tenant, brokers involved with the deal said.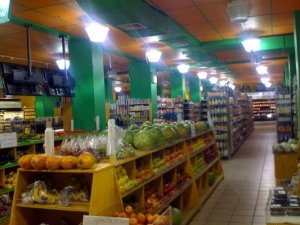 "It was very important for Equity Residential to have an amenity to the residential tenants upstairs," said Ross Kaplan of Newmark Grubb Knight Frank, who represented the landlord along with Stu Morden.
Equity Residential conducted extensive polling of residential tenants in the building to find the most-wanted use for the space, ultimately turning down a number of "non-retail users" – including a medical facility – to bring the organic market in, Mr. Kaplan said.
"We turned away a lot of different types of users who wanted the space," he said.  "In the end, they (Equity) felt Khim Millenium, a great market in Brooklyn, offered what tenants were looking for… The number one thing all tenants wanted was a market."
Khim's will likely move in within five to six months, Mr. Kaplan said.  He declined to specify the terms of the lease, citing privacy concerns with the landlord.
Diana Boutross of Winick Realty represented the tenant.  Ms. Boutross did not return calls for comment in time for publication.
Khim's Millennium Market, established in 1998, carries a range of organic and natural produce, as well as prepared meals and other products focused on healthy living.  The organic grocery already has five locations throughout Williamsburg.
The grocery could not be reached for comment, but a statement on their website reads:  "Unlike our competitors, the corporate giants of the industry, we truly are 'grass roots,' without sacrificing quality, price, or selection.  Our ultimate goal is to grow with the communities where we work, live, and play together."
The Brooklyner is a 515-foot, 51-floor skyscraper in Downtown Brooklyn, built by the Clarett Group and designed by GKV Architects.  It opened in 2010 and features 491 rental units – a contrast to the recent building boom in Downtown Brooklyn which has favored buildings with residential condominiums.
Equity Residential is the largest publicly-traded apartment landlord in the United States, run by company founder, chairman and real estate bigwig Sam Zell.  The firm owns a portfolio of high-end residential properties in growth markets throughout the country, including New York City, Boston, Washington DC, Seattle, San Francisco and Los Angeles
The firm recently announced that it will acquire roughly 60 percent of residential high-rise owner Archstone's portfolio from Lehman Brothers Holdings Inc., increasing its 119,000-unit portfolio by 20 percent, Bloomberg reported.
That deal is expected to close in the first quarter of next year.
111 lawrence street
,
Archstone
,
clarett group
,
Diana Boutross
,
Equity Residential
,
gkv architects
,
khim's millenium market
,
Lehman Brothers Holdings
,
Newmark Knight Frank
,
Ross Kaplan
,
Sam Zell
,
Stu Morden
,
the brooklyner
,
winick realty