<em>The Commercial Observer's</em> 30 Under 30
---
---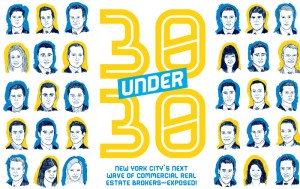 Each year, hundreds of young real estate agents find themselves toiling the proverbial mail rooms of the city's biggest brokerages, having left behind native cornfields of Nebraska, bayous of Louisiana and ivies of Massachusetts for a shot at playing in the big leagues. But commercial real estate has never been for the faint of heart, and thus for every [slideshow]college graduate who makes the cut as a junior broker at Studley and CBRE, an equal number of determined peers find themselves marveling at just how disciplined the competition can be.
And still there are the rest of you, who thrive off such tests of strength. And so it's for you who we present The Commercial Observer's first annual list of New York's most promising young commercial real estate brokers under 30. From Jones Lang LaSalle's youngest vice president to a broker who names Stonehenge co-founder Ofer Yardeni as a mentor, this year's crop of talent proves that hard work and powerful connections pays off.
Earlier this month, we asked executives, communication directors and your peers to nominate individuals they most admired under the age of 30—the ones they believe rank high among New York's next wave of tenant and landlord representatives, investment sales agents and retail fixers. And after reviewing client rosters and career statistics, we were able to whittle a long list of talented individuals into what you see before you.
So with that in mind, enjoy reading about this year's crop of "30 Under 30" brokers today, but know that by next year these same agents may be nipping at your heels.—Jotham Sederstrom, Editor-In-Chief
Ross Berkowitz began his career with Robert K. Futterman as an intern while attending Baruch College in 2007, but his interest in the real estate world was already in place.

"I had family friends that were always really into real estate, and while was in college I actually interned with a landlord that I do business with now," said Mr. Berkowitz, now 26. That landlord was Ofer Yardeni, co-founder of real estate firm Stonehenge, whom he counts as a mentor. Still, he gravitated toward a broker's position. "I saw both sides of it, and brokerage intrigued me more."

The internship with RKF turned into a position as a canvasser in 2008, which led to brokerage the following year. So far, Mr. Berkowitz—an associate with the firm—has accumulated 93,175 total square feet in his career. He benefited from working alongside RKF executive vice presidents Gary Alterman and Ariel Schuster, he said, and described his time canvassing as a training program that helped him better understand the city in which he now plies his trade.

The life of a broker is one of keeping track of constant changes in the market, said Mr. Berkowitz. He advises anyone just starting out in New York's real estate game to be patient. "It takes time," said the Scarsdale native. "I'm still learning that."

Some of Mr. Berkowitz's notable transactions include a 15,584-square-foot lease with office supply retailer Staples at 641 Avenue of the Americas this year, and 31,400 square feet at 100 Church Street leased in 2010 to businesses including Pret A Manger, Farber Oncology, Aroma Espresso Bar, the Anne Frank Center and Ray's Barber Shop.

The majority of his work is on owner representation: he's worked with Stonehenge Partners, SL Green Realty Corp., Invesco Real Estate, L.H. Charney Associates, Atlas Capital Group and Silverstein Properties. In the future, Mr. Berkowitz would like to take his services beyond New York City. "I'd like to represent tenants across the country, but that takes time," he said. —Karsten Strauss
Steven Binswanger has managed to stand out as an up-and-comer even in the huge talent pool at Eastdil Secured, which has completed $95 billion in property sale transactions since 2009.

Mr. Binswanger has been involved in $6 billion of those deals in his three years at the company, including the sale of 1633 Broadway in 2011, which valued the property at $2 billion.

At Eastdil, where he is an associate, "I get to work with the top people in real estate" including senior managing directors Doug Harmon and Adam Spies, he said.

"Learning from them is invaluable. The tougher thing is, you're working with so many talented people, it's hard to differentiate yourself. Everything we do is in teams, which change depending on deal. I've been lucky to be a part of great teams."

Mr. Binswanger helped broker the sale of a 49 percent stake in 1633 Broadway to Paramount Group, giving the real estate company 100 percent of the property. Representing SL Green Realty Corp., his team recently closed the sale of a 49.5 percent stake in 521 Fifth Avenue to a joint venture between Quantum Global Real Estate and LaSalle Investment Management for $72 million, and Mr. Binswanger said he expects the group to add to its deal total by the end of the year.

The 29-year-old sales associate comes from a real estate background. His family owns the Philadelphia-based international brokerage Binswanger, where he interned while in college.

"My mentor is my grandfather, John Binswanger, who instilled a love of real estate at an early age," he said. —Stephen Kleege
As an assistant director in Studley's consulting department, William Colgan, 26, has actively worked on 7 million square feet of completed transactions since joining the firm in 2008.

Focused on strategic planning of transactions, Mr. Colgan uses his GAAP accounting and finance knowledge to tailor strategies and analyses to make both tenant and landlord happy.

"Sometimes tenants and landlords look at the same transactions differently," he said. "There are many ways to cater to both parties in order to meet their objectives."

A roster of clients that is too long to list in its entirety includes companies as diverse as the American Red Cross, CBS Broadcasting, Digital Studios, Fujitsu Limited, Haks Engineers, Hilton Worldwide, Ironshore Holdings, Summit Medical Group and Thomas Publishing.

Along with team members including Matthew Barlow, Brad Wolk, Jason Perla, Anthony Chow and Samantha Gentile, Mr. Colgan's consulting group goes beyond the brokerage basics.

"The space itself is important, but we are heavily involved in the analytics and truly helping clients to understand the structure and financial commitments involved with a transaction," Mr. Colgan said.

Mr. Colgan graduated with a Bachelor of Arts in economics from Harvard University, where he was a four-year varsity wrestler. He was introduced to Studley through an on-campus career fair and joined the firm after graduation. "I've worked with and learned from brokers with different styles and pitch techniques here, which has largely helped in my success," he said.

Mr. Colgan is a Harvard College Fund associate's representative and a member of the Harvard Club of New York. He is also a volunteer with the Cystic Fibrosis Foundation. —Al Barbarino
Many young people grow up with a dream of making their mark on New York, but Lauren Crowley-Corrinet was uniquely intent on making that goal a reality. "I always had a love affair with the city," she said, adding that it was one reason she matriculated at Barnard. Upon graduating, Ms. Crowley-Corrinet realized that "real estate is so much the fabric of New York" and a "tangible" expression of her city romance, and that CBRE was an ideal venue in which to nurture it.

In nearly seven years at CBRE, Ms. Crowley-Corrinet has accrued 5,289,000 square feet of transactions on behalf of clients including Société Générale, Young & Rubicam and Dow Jones. After she spent her undergraduate years in New York, the city "was in no way daunting to me," she said. "You see past the things that might otherwise intimidate you." Still, Ms. Crowley-Corrinet was "incredibly fortunate" to have CBRE's Mary Ann Tighe, C.E.O., New York Tri-State Region, and Greg Tosko, Vice Chairman, New York Tri-State Region, offer crucial early guidance and the opportunity to work on deals (for instance, one involving Coach) normally out of a fledging broker's reach. Ms. Crowley-Corrinet proves especially adept at steering clients from their longtime homes into new offices—her transactions ushered the China Institute away from the Upper East Side and into a 50,413-square-foot condominium at 40 Rector Street and brought Y&R a 339,000-square-foot lease at 3 Columbus Circle after the advertising giant had spent 85 years at 285 Madison Avenue.

These transitional deals entail working with some people who are "really, really comfortable" where they are and somewhat reluctant to move, said Ms. Crowley-Corrinet. But the process works, so long as "you do your homework, build the groundwork and help clients learn the market." Fittingly, Ms. Crowley-Corrinet is not content to stay put: "I love to be a part of the changing skyline." —Billy Gray
Eric Ferriello came to his job at Colliers International as a result of the credit crunch, which hit three months after he started at his first job, as a commercial real estate lender at Webster Financial Corp. in Connecticut. "I wanted to steer away from the lending side," the 27-year-old tenant representative recalled. "I saw brokerage as an opportunity to interface more with clients and people in general."

Mr. Ferriello interviewed at the biggest real estate firms, and recalls hitting it off with Robert Tunis at GVA Williams, which would become Colliers International. Now part of a team with Mr. Tunis, the vice chairman of Colliers, and Leonard Garza, the company's New York office director, Mr. Ferriello and his team have about 700,000 square feet worth of leases under his belt.

A series of transactions for CPX Interactive was typical of deals by Mr. Ferriello, who represents tenants on both the acquisition and disposition of office space. He helped the digital advertising company dispose of space on Long Island and complete a 10-year deal on 18,000 square feet at 1441 Broadway. He's now helping the company with a national expansion as CPX looks to open a call center in North Carolina and offices in Los Angeles.

Mr. Ferriello said he's benefited from "being a younger guy" and "having a lot of friends in media and tech sector," as that industry has boomed in Manhattan. He sees no signs of that demand abating, and said the tech district will expand before long from Midtown South to the "cusp of Times Square."


Clark Finney's introduction to the world of New York City real estate came through a series of conversations he had during his senior year at Washington & Lee University with Cushman & Wakefield Vice President Gus Field.

Introduced by a mutual friend, Mr. Field described a team-oriented environment that appealed to the young Mr. Finney's sense of sportsmanship and competition.

"I played sports my whole life, and that was something that I was looking for," he said. The idea of trading in an actual physical commodity was also attractive, he added.

Now 29, Mr. Finney has moved approximately 2.7 million square feet of space since taking a job at Cushman in 2007, starting with a 4,500-square-foot lease at 140 Broadway when he was only 23 years old—four months into his burgeoning career at the firm. He attributes his success in the real estate game to a strong group of mentors there, including Executive Vice Chairman John Cefaly and Vice Chairman Robert Lowe, as well as Mr. Field. "They've taught me so much, I don't know where to begin," said Mr. Finney.

Launching his career in New York came with obstacles. Originally from Baltimore, Mr. Finney had to spend some time learning the lay of the city's landscape and getting to know its landlords.

One of the secrets to his success, he said, is the ability to wake up each day and maintain a positive attitude while making a living in a cutthroat business. As for his advice to those just entering the real estate game, Mr. Finney says that the hardest worker will win in the end.

"It's not an immediately easy business to get into and succeed in. It takes time," he explained, noting that diligence and patience are essential to success. "Just continue to put your best foot forward every day." —KS
Jeff Fischer, 28, is a competitor by nature.

Having played hockey and lacrosse growing up, and with a background in economics and a knack for math, his segue into brokerage was a smooth one.

"I approach life with a never-be-complacent attitude," he told The Commercial Observer. It landed him a promotion to vice president at Jones Lang LaSalle in July 2012, and is the youngest broker currently holding this distinction in the tristate region.

"It sort of made me want to get the next one," Mr. Fischer added. "But more importantly, my goal is to continue to grow as a broker—not to have a million different clients, but to have fewer and better clients, and to knock it out of the park for every one of them."

Mr. Fischer has had a hand in the leasing of 3.2 million square feet of space, specializing in the representation of high-end tenants in the Plaza District, as well as creative companies in Midtown South.

At JLL, he works under Scott Panzer, vice chairman, who refers to him as "the smartest person I've ever come across in real estate."

He also works alongside Steven Rotter and Mort Schrader, managing directors, Howard Hersch, vice president, and Ben Casper, an associate. His notable clients include Newsweek, Russell Investments, Resources Global Professionals, Vox Media and Knighthead Capital.

Following a stint as a talent agent after graduating from the University of Wisconsin with a degree in economics in 2006, Mr. Fischer decided real estate was a better fit. "I wouldn't do anything else in the world," he said.

Signature transactions include KKR's 130,000-square-foot expansion/renewal at 9 West 57th Street, Newsweek's 50,000-square-foot new lease acquisition at 7 Hanover Square, Kaplan's 38,200-square-foot disposition at 888 Seventh Avenue and Valinor Management's new 12,000-square-foot lease at 510 Madison Avenue. —AB
Marcel Fridman, the 26-year-old co-founder of Barcel Group Inc., got a head start in the real estate business. As a junior in high school, he switched from a $5-an-hour job at a pharmacy to an $8-an-hour position canvassing potential home sellers for Peoples Choice Realty. When he saw the difference between his pay and the brokers' commission on a sale he'd brought in, he vowed to have his real estate license by his 18th birthday.

Mr. Fridman moved from residential sales to investment real estate brokerage at the urging of his mother, an institutional sales trader on Wall Street who "knew the ins and outs" thanks to her close-up view of real estate investment trusts. He made his first sale after about three months as an associate at Itzhaki Properties and went on to sell more than $100 million in property in his first two years in the business.

"I was lucky," he said. "My parents helped me through first couple of months—gave me money to survive."

By the time he was 21, Mr. Fridman had experience selling multifamily, mixed-use, office and retail properties throughout the five boroughs. He said he and his partner Bart Zimmerman formed Barcel to gain independence and open the door to more business.

"I mainly work on multifamily deals now," he said, adding that he focuses on Brooklyn, Manhattan and the Bronx. Banks, he said, have been "aggressive" in making loans for apartments, which didn't suffer as much as office properties in the financial crisis. "People still have to live somewhere," he said. —SK
When Kelly Gedinsky, started as an intern at Winick Realty Group in 2006, she soon caught the eye of CEO Jeff Winick.

"I was either 22 or 23 at the time, and I hadn't had much interaction with Jeff Winick," Ms. Gedinsky told The Commercial Observer. "I walked into the office, and he said, "I want you to get your real estate license ... you're going to be a star.'"

Ms. Gedinsky, now 29, is living up to this prediction, having completed 439,375 square feet of leasing since joining Winick and becoming one of the most successful young female brokers in the industry. She was recently promoted to director at the firm.

"It's been wonderful," she said. "It's been a pleasure working under and learning so much from all the managing directors in this office."

Ms. Gedinsky, who has expertise in ground-up construction and retail layouts, was instrumental in leasing the first Madison Avenue boutique for Yigal Azrouel, and she helped to lease Salvatore Ferregamo's temporary store at 3 West 57th Street on behalf of the landlord.

She is also a lead broker on the 450,000-square-foot Columbus Square project, more than 350,000 square feet of which she has leased to local and national retailers, including the first New York locations for HomeGoods and Michael's Arts & Crafts.

In 2012, owing in part to her success at Columbus Square, she was selected to market 36,000 square feet of retail space at 3 Columbus Circle.

Consistency, availability and dedication have been the tenets of her success, she said. "You can't give up, and you always have to keep moving forward," she added.

Ms. Gedinsky has a bachelor's degree in English from the University of Wisconsin-Madison. —AB
The biggest blessing of Seth Glasser's ascendant real estate career was diving in when the market hit rock bottom. "It was 2009, and I had no real estate experience or knowledge whatsoever," Mr. Glasser said. A family friend in real estate urged him to consider the industry, and Mr. Glasser soon found a compelling opportunity at Marcus & Millichap.

"Starting out at the bottom, I was able to learn the fundamentals of brokerage and hone my skills for a long-term fight," he said of his seemingly inopportune entry into the field. Real estate's climb back up has helped Mr. Glasser amass 482,528 square feet in individual career sales and $125,932,688 in investment sales in two and a half years. (He has logged 383,247 square feet and $79,557,688 of that total this year.)

Mr. Glasser attributes his success to innate tenacity and extroversion, traits he considers endemic to top real estate professionals. "Everyone has their own style, but a common characteristic is Type A personalities," he said. He also counts Marcus & Millichap's Peter Von Der Ahe, first vice president, investments, and Scott Edelstein, vice president, investments, as seminal early influences.

Growing up on Long Island, just outside of the city, gave Mr. Glasser a bit of an edge. "Not getting lost on Day One certainly helps," he says. But he was largely unfamiliar then with the uptown markets that are his current focus. He is especially involved in, and bullish on, West Harlem. "It's a phenomenal opportunity," he said. "A lot of people priced out of downtown Manhattan are moving up there. The Columbia expansion, City College and the Broadway corridor are all dynamic areas of change."

As for evergreen advice on how to succeed in real estate, Mr. Glasser said, "Find a mentor you like and trust whose career is still growing. And bust your butt." —BG
Winick Realty Group Associate Director Alexander Hill was walking a slightly different path than commercial real estate brokerage, until he was forced to change his course. A scholarship to Vanderbilt University led to an internship with Lehman Brothers upon graduation in the summer of 2008, which could well have led to a job at the financial services firm had it not sunk into bankruptcy.

"I started to think about a new career," explained Mr. Hill, now 26. "I got my real estate license almost immediately." Obtaining his license at night, he quickly applied for positions at commercial real estate firms, settling on a spot at Winick. "I was hungry to get into the business," he said.

"It's a very difficult business to jump right into," said Mr. Hill said, noting that having family or friends in the industry can ease the transition for a newcomer—neither of which he had. After a year with the firm, Mr. Hill realized that he was a good fit for commercial retail brokerage. "I'm pretty open-minded as far as networking and ways that I try to get new business," he said, noting that he does not rely on one strategy to succeed. "I'm constantly looking for new leads."

One angle that has been a boon to Mr. Hill is his affiliation with Business Networking International, a group of over 145,000 professionals worldwide from various industries who share their networks and connections with one another.

Mr. Hill names his firm's founder, Jeff Winick, as a mentor, as he taught him to be aggressive. "You have to come into the office early, stay late," he said. "You really have to be tenacious."

Chelsea is Mr. Hill's focus, and he's negotiated seven leases this year on Seventh Avenue between 15th and 22nd Streets. He recently brought two major restaurant tenants to the growing market on Third Avenue in the East 90s, including Brick Lane Curry House and Third Avenue Ale House. He's accumulated a career tally of 199,870 square feet.

Brokers new to the business must learn tenacity, he said, stressing that success means "working all the time, 24/7, 366 days a year." Yes, he said 366 days a year. —KS
Erik Lundberg has become an expert in one of the hottest neighborhoods in Brooklyn in his 32 months at Marcus & Millichap, where he is an investment associate.

Specializing in apartment and mixed-use properties with a focus on Bushwick and surrounding areas, Mr. Lundberg has closed $11.6 million in sales, representing 41,932 square feet of space and 64 units.

"It's changed a lot since I started working," he said. "It started with artists. Now young professionals are moving there as well."

Renters are attracted by the area's access to Manhattan, which is 20 minutes away on the L, J or M subway lines, Mr. Lundberg said. Strips of brunch places and bars catering to yuppies have sprung up near the Jefferson Street and Morgan Avenue L train stations. Since the beginning of 2010, prices for six-to-eight-unit multifamily buildings have jumped 30 to 40 percent, Mr. Lundberg said.

The appeal to buyers "is that you can still get a building cheaper than in East Williamsburg or Greenpoint," he said. "Rents per square foot are not much lower."

Mr. Lundberg, who grew up in West Hartford, Conn., was previously a sales consultant for John Hancock Funds LLC and SunAmerica Funds, a subsidiary of American International Group, selling financial products to wealth managers and financial advisers.

Mr. Lundberg said he sees himself "keeping up what I do and adding to it." In addition to his work in Bushwick, he's leading a team looking to do deals in such areas as Sunset Park, Bay Ridge and Borough Park.


Brett Maslin has seen an evolution in the market in his six years at Adams & Co. The 29-year-old broker, who in that time has leased 745,000 square feet of office space representing rent commitments of $225 million, said that landlords of office buildings in Midtown South once seen as undesirable Class C properties are increasingly "sticking up for themselves" as demand for the loft spaces favored by technology and new media entrepreneurs overtakes supply.

The pace at which deals are being done is coming as a surprise to companies looking to expand. "More times than not," he said, "they lose that first deal."

A lease that Mr. Maslin brokered for Eastern Nationwide Supply Inc. illustrates how tight the market has become. The costume jewelry maker, which was looking for 12,000 square feet, wound up taking 7,130 square feet on the seventh floor and 3,620 square feet on the fourth floor of 1261 Broadway. The deal allows Eastern Nationwide to "get their foot in the door now, while there's still space available," and positions the company to consolidate within the building when contiguous space becomes available, he said.

Mr. Maslin, who has a degree in management from Indiana University, said technology and new media tenants are likely to continue spreading north from the Chelsea and Flatiron neighborhoods. He doesn't expect the boom to benefit new developments, however. The typical young entrepreneur "doesn't want to be in a glass and steel building," Mr. Maslin said. "I don't think it's possible to recreate what the last 100 years have done for these buildings." —SK
Michael Mathias's role as leader of national accounts at Studley has given him the chance to expand his horizons.

Working with Studley executives around the U.S. and Canada, he's helped client Deluxe Entertainment Services Group consolidate into a 130,000-square-foot space in Burbank, lease a new base in Toronto, and cut deals in Atlanta, Chicago and Detroit.

It's been "a tremendous learning experience," Mr. Mathias said.

Mr. Mathias joined Studley in the fall of 2007 after graduating cum laude from Vanderbilt University. In 2010, he was named Studley's national "Rookie of the Year," and in August, the firm named him associate director of its New York office. At age 27, he's leased almost 1.3 million square feet of office space. This year's volume is 520,570 feet, including the sale of a 79,590-square-foot building in Toronto.

"Leasing is my bread and butter," Mr. Matthias said. "My team has carved out a niche dealing with private equity firms, maximizing EBITDA [earnings before interest, taxes, depreciation and amortization] from a real estate point of view. It's nice to see you're directly impacting their business."

In addition to Deluxe Entertainment, clients include AXA Liabilities Managers, Hutchin Hill Capital, Scopia Capital, Madison International Realty and Spotify. While activity by financial firms has been in "a bit of a lull," Mr. Matthias said, demand from the industry is likely to rebound.

"Everything is cyclical," said Mr. Matthias, who previously worked at Stratix Asset Management and JNK Securities Corp. "I don't think [the] financial industry is going anywhere." —SK
Adam Maxson, 25, a director with ABS Partners, always knew he wanted to work in real estate.

Growing up in a real estate family, he swept up at construction sites, painted apartments and mowed yards in front of buildings as a kid.

"My grandfather always told me that you learn from the bottom up," he said.

The early training is paying off, as he has so far completed 38,148 square feet of office leasing (as a tenant representative) during his two years at the company.

Mr. Maxson grew up in Cleveland, Ohio, and attended Indiana University, moving to New York in 2010 and joining ABS Partners Real Estate in its office leasing and management divisions.

"New York is a great place to learn real estate—with the high volume of product, there's always something going on," he said.

The majority of Mr. Maxson's client list—which includes Onswipe, Art.sy, Enterproid and Lover.ly—comes from the growing tech scene in the Union Square area of Manhattan.

"I went in that direction because a lot of the people running those companies are closer in age to me, and I'm interested in the products they are releasing," he said. "They are products I can see myself using."

He recently expanded into ABS Partners' investment sales division, working under Alan Cohen and Steven Hornstock. Other team members he has worked with include Doug Regal, Evan Algier and Justin Strizzi; he also worked under Mr. Regal in the firm's leasing division.

"Doug [Regal] really watched over me and helped me to do a better job when I started, making sure I was out on every tour, meeting with people and making my calls," he said. "Same thing with Alan [Cohen] and Steve [Hornstock], who have helped me to make a smooth transition." —AB
Traveling between Philadelphia and New York on a daily basis is not an ideal situation, but Aaron Medeiros endured the commute for an internship that would blossom into a career as director of acquisitions at Time Equities.

"It was the luck of the draw," Mr. Medeiros said of his introduction to the commercial real estate industry. "You know, it's funny: I got an internship working in acquisitions at a multifamily group when I was 20 years old. It just so happened to be the most interesting job at the time. I knew nothing about real estate."

That led to Mr. Medeiros interning at Time Equities under Francis Greenburger. "I was living in Philadelphia at the time I started working," he explained. "For my senior year, when I was about 21, I'd go to class at night and then I was taking the train in the morning to Time Equities."

The internship led to a job at the firm, where has been promoted to director of acquisitions. Over his seven-year career, Mr. Medeiros has helped Time Equities source and acquire more than $60 million dollars of property while also managing a downtown retail portfolio of more than 150 stores and local business and a diversified national portfolio in excess of 1 million square feet.

"We just bought two buildings right outside of Philadelphia," he said of recent work involving loan purchases, discounted payoffs and distressed real estate. "We received a phenomenal deal. It was something that could happen at the bottom of a cycle, acquiring something at 50 percent of the value.

The key to his success, he said, has been "buying at the bottom of cycles and being able to run the assets and hold on when times get bad." He explained that "I started my career when there was a huge market that was pricing assets at record prices. There were a lot of groups that seemed really successful, but then when the bottom fell out, the guys like Francis knew that the time wasn't to buy when the money is loose but when the market is at the bottom. It's about buying things right the first time." —Michael Ewing
Brandon Medeiros followed in his brother's footsteps into the world of commercial real estate and became the director of office leasing and sales at Time Equities.

"I started working with my brother at a company in Philadelphia," he said. "One of our bosses, Francis Greenburger, made the move up to New York and asked if I wanted to intern in acquisitions. I fell in love with the city and real estate."

Mr. Medeiros continued interning at Time Equities for two years until he finished his finance and economics degree at Drexel University and was offered a position at the firm.

In Mr. Medeiros's five years at Time Equities, he has been responsible for more than 90,000 square feet of office leasing deals with clients such as Abundance Partners, Robert Half International and the Irving Penn Foundation. In addition, he leads project management in tenant construction for Time Equities.

"Office condos," Mr. Medeiros responded when asked what his favorite market is. "They are kind of a niche. When I first started, I had to figure it out really quickly, but it is neat and the owners are interesting. The tenants really care about things, and it is a different dynamic.

"We just closed at 131 West 33rd Street for more than 24,000 square feet with the New York State Nurses Association," Mr. Medeiros said.

The deal was his largest to date, adding to his career history of more than 102,000 square feet of office condo leases and another 30,000 square feet in contract. —ME
A recurring theme in descriptions of Michael Movshovich is his diligence and work ethic. He's the first guy you see when you get to work and the last colleague standing as you leave. But the CBRE Midtown Manhattan office vice president doesn't consider it a grind so much as the realization of a childhood ambition.

"I've been fascinated with New York real estate and buildings since I moved here from Moscow when I was 7 years old," says Mr. Movshovich. He left to attend Tulane, where he majored in political economy, but knew he wanted to come back and "was always looking for a way to get into the industry." He joined the ranks at CBRE in 2007 and has since represented an eclectic group of landlords and tenants in transactions totaling 656,578 square feet.

One of Mr. Movshovich's benchmark deals came to fruition last fall when, with CBRE Executive Vice President Ben Friedland, he represented PDT Partners, a hedge fund spun off from Morgan Stanley, as it signed a two-floor, 55,550-square-foot sublease from Random House at 1745 Broadway. More recently, he helped Normandy Real Estate Partners complete a 33,580-square-foot lease to Collection XIIX at 1370 Broadway.

In the coming year, Mr. Movshovich will continue to seek out "pockets of opportunity" in what he thinks will be a relatively static market. As he climbs the ladder, he'll also advise fresh-faced brokers getting in on the ground floor to forge working relationships with people like Mr. Friedland and CBRE Executive Vice President Paul Myers, who were integral to his own rise.

"The most important aspect of a career is who you partner with and who you learn from on Day 1," he says. "Understand how that person is going to treat you and what they're going to teach you." —BG
Ian Norris, 26, sees his job as an associate at the Kaufman Organization as an opportunity to meet interesting people and immerse himself in their business, with an eye toward helping them expand.

This month, he secured a new lease for Van Dam Inc., a mapmaking company, and he is in the midst of helping Paramount Merchant Funding meet its increasing need for space.

"They tripled in size in their first move, and they're already expanding out of it," said Mr. Norris, who helped secure an earlier lease for the retail funding company last year at 242 West 36th Street. "It's fun to be part of that, seeing the company grow."

In less than two years at the Kaufman Organization, Mr. Norris has secured a total of 35,258 square feet of space for clients including Parke and Ronen, a men's fashion firm; Brew PR, a tech media relations firm; and COED Media, a college lifestyle website. Though not part of a formal team, he often works with Kaufman partner Michael Kaufman and fellow associate brokers Loren Biller and Stephen Benoit. Mr. Norris graduated with a political science degree from George Washington University and interned in the office of Speaker of the House John Boehner. But he says he's always been immersed in real estate. Before joining the Kaufman Organization, Mr. Norris ran a small family-owned construction firm with his brother-in-law in Pittsburgh. His father has been managing director at CBRE Pittsburgh for the past 15 years.

"Politics is a dangerous subject to discuss," Mr. Norris said. The presidential election is unlikely to have much effect on the New York property market, which has been outperforming the rest of the country, he said. —SK
Gregory Postyn, a former economics student who says he's "careful" not to speculate on the strength of the market, has noticed signs of optimism among tenants seeking space.

The 25-year-old associate director at Walter & Samuels said that more companies are looking for ways to expand, rather than consolidate. Increasingly, he said, clients are asking about the potential to rent smaller space at first, then expand in the future. And the inquiries are coming not just from startup companies that expect to increase their staffs from five to 50 employees, but from businesses that already have hundreds of workers. "It's a very common request," he said. "How can you accommodate a growing company?"

Mr. Postyn, who studied economics at political science at the University of Michigan, said this educational background helps him understand market dynamics and present himself as a well-rounded person. His path into real estate, like those of many in the industry, was through his family: his grandfather was a real estate investor, and his mother continued his small company after his death.

"A lot of the dinner table conversation had to do with [subjects like] what to do about the nice guy who couldn't afford the rent—business ethics conversations," he recalled.

Among the more significant deals he's played a role in was a lease at 304 Park Avenue for MWW Group, the advertising company that moved from Rockefeller Center in 2011, before SL Green Realty bought the building on East 23rd Street for $135 million last year.

"That deal illustrates what a hub the Flatiron and Union Square submarkets have become," he said. "In Chelsea, Kips Bay, Murray Hill, we're seeing the spillover from farther downtown. This is now a desirable market." —SK
Winick Realty Group's Associate Director Josh Siegelman, 25, is carving out a deep niche in the restaurant leasing business.

It came very naturally to the self-described foodie, who in less than three years at Winick has completed 70,000 square feet of leasing, much of it in the restaurant retail space.

"It's a personal passion, and in today's marketplace, food and restaurants are always active players," Mr. Siegelman told The Commercial Observer, adding that Internet sites like Eater, Grubb Street and Midtown Lunch are among his favorite reads.

"My introduction to some of these popular concepts was through the blogs," he said. "I can relate to these guys."

A graduate of the University of Colorado at Boulder, Mr. Siegelman combines his passion for food and restaurants with innate networking skills. He has completed lease transactions for trendy Manhattan eateries including The Meatball Shop, Luke's Lobster, Oaxaca Taqueria, BaoBQ, Petite Abeille and Birdbath Bakery.

He has also brokered deals on behalf of ownership for Party City's new Penn Station area location, for Caudalie Paris's first retail location, for LiSi Cosmetics' first retail location and for California-based Drybar, and he has represented landlords like The Hakim Organization, TF Cornerstone and Algin Management.

He singlehandedly transformed the area on Greenwich Avenue between Sixth and Seventh Avenues, representing both tenants and landlords in 2012 to bring The Meatball Shop, BaoBQ, Enopi Tutoring Center and Oaxaca Taqueria to the block.

"The block was very cool and hip, but it had really had old leases," he said. "I was able to give those spaces new life."

Mr. Siegelman attends charity events and real estate shows often, including the MAPIC in Cannes, France, and ICSC in Toronto.

"I'm constantly networking, both local and internationally, to help draw retailers to the city," he said.

Mr Siegelman is currently marketing 476 Broome Street/62 Wooster Street in Soho, a 14,000-square-foot space ideal for a high-end fashion gallery or showroom. —AB
Having joined Cushman & Wakefield in 2007, 28-year-old Ethan Silverstein now works as a director in the brokerage department of the firm's New York office. His responsibilities primarily include business development, tenant representation and landlord representation.

Mr. Silverstein first started working in the industry after completing his bachelor's degree at Brown University, where he majored in business. "I was looking for a job, and I spoke to a Brown alumnus, Evan Lyne, who works at EastDil [Secured]," recalled Mr. Silverstein of his introduction to real estate.

"I like the physical aspect," he added. "You can, feel and see property; it's present. It isn't like a stock or equity."

His work at Cushman & Wakefield, alongside teammates Bruce Mosler and Mark Mandell, includes representing several notable buildings in New York such as 75 Rockefeller Plaza, 555 Madison Avenue, 1450 Broadway and 260 Madison Avenue. His list of represented tenants is equally impressive, having worked with the Leon Lowenstein Foundation, Belstaff and Empirical Research Partners.

His career square footage comes in at more than 840,000 square feet, he said.

"On any day, anything can happen," he said. "No two days are ever the same. I guess what keeps you going is that there is always an opportunity where you can come up with a creative idea and you can complete a large and complex transaction."

"Rational self-interest," Mr. Silverstein called the key to success in real estate.

In addition to his work at Cushman & Wakefield, Mr. Silverstein serves as a member of the Real Estate Board of New York and the Young Men's/Women's Real Estate Association, as well on the board of the Brown University Athletic Council. —ME
Brandon Singer entered the world of real estate when he was in high school, returning after college to climb the ranks of Cushman & Wakefield, where he's now a director of retail.

"When I was in high school, I saw an opportunity for a two-hour-a-day internship at an industrial real estate company in Long Island," said Mr. Singer of his introduction to real estate at the firm Shakor Real Estate. "I worked there for two years."

Mr. Singer went on to college at George Washington University in Washington, D.C., and returned to New York to continue working in real estate.

"To tell you the truth, I like it all," said Mr. Singer about his favorite part of the job. "I wake up in the morning ready and excited to go to work."

"I think there is no better feeling than getting a deal done after working hard," he added.

Mr. Singer's career square footage in retail clocks in at more than 400,000 square feet, with a total value in excess of $300 million.

One of his most credited achievements is the transformation of Madison Avenue in the upper 80s, where he brokered leases with J.Crew's Crewcuts, JOIE, Jack Rogers, Ankasa and Margo Manhattan Jewelry at 1200 Madison Avenue.

His tenant representation list is extensive, spanning the city from the Financial District to the Meatpacking District to the Upper West Side, and includes Nike, Ann Taylor and TD Bank in its Manhattan retail expansion strategy.

Mr. Singer is also responsible for marketing more than 400,000 square feet of retail space on behalf of various landlords in the city. He works alongside teammates Joanne Podell, Ian Lerner and Chris Stanton at Cushman & Wakefield.

"I think persistence and determination," said Mr. Singer, when asked to name the secrets to his success. "There's a saying: the harder you work, the luckier you get. I think that's sort of how it works." —ME
The number of real estate dynasties in New York suggests that a good number of brokers were set to enter the industry at birth. But despite growing up in a family with an extensive real estate background, Alexis Tener initially had other plans.

Ms. Tener graduated from the University of North Carolina at Chapel Hill with a bachelor's degree in music performance and political science, and then from Washington & Lee with a law degree. A "change of heart" pulled her away from a budding career as a public defender in 2009, when she joined Jones Lang LaSalle's operations department.

"I loved my work as a public defender," Ms. Tener said. "But it was really sad, and I couldn't see myself doing it long term. I thought that the skills I used in law school would benefit me in real estate." In four years at JLL, Ms. Tener, who was promoted to vice president in July, has personally brokered 1,531,000 square feet of commercial space.

A breakthrough moment came for Ms. Tener last year, when Oppenheimer & Co. finalized a 270,000-square-foot lease at 85 Broad Street in a negotiation that Ms. Tener worked on alongside JLL's Peter Riguardi, Frank Doyle and Cynthia Wasserberger, all of whom she lists as prime mentors. (In total, Ms. Tener collaborated on 1.1 million square feet worth of leases at the former Goldman Sachs headquarters.)

"I came late to [that deal]," says Ms. Tener. "I saw a very high level of play. It was a great learning experience, seeing what has to happen at the 11th hour." Ms. Tener says that consummating deals in clutch situations is her forte. "I'm not the most aggressive salesperson," she concedes. "But partly thanks to having an analytical legal background, I spot issues at the finish line, condense them and use that as a springboard for future conversations." —BG
Michael Tortorici began his career in real estate while an undergrad at NYU, with an internship at Massey Knakal Realty Services. He took a full-time position at the firm during his senior year. "The company was booming, the market was booming."

Today, Mr. Tortorici, 29, can boast the sale of 384 buildings consisting of approximately 7,541,453 square feet, and 70 development sites of approximately 1,375,189 buildable square feet—total value: almost $1.3 billion. He's also vice president at Ariel Property Advisors, a firm he and other Massey Knakal alumni—Shimon Shkury, Victor Sozio, Ivan Pertrovic and Jonathan Berman—launched in 2011.

"We just came to a point where we had relationships and a lot of business that we'd built," Mr. Tortorici said of the group's departure from their previous firm. The company is on pace to close $190 million this year, he said. The firm focuses on multifamily, residential, mixed-use and development properties and retail condo sales.

While attending NYU's Stern School of Business, Mr. Tortorici studied the ins and outs of the business world; he finds the New York City real estate game exciting because it represents all the lessons he learned there come to life. "To me, it was economics in action," he explained.

Mr. Tortorici counts Ariel Property Advisors president and former Massey Knakal partner Shimon Shkury as his mentor. "He's incredibly generous with his time and resources in helping others."

Mr. Tortorici's larger deals include the $80 million sale in 2007 of 1760 Third Avenue—a vacant nursing home that was converted to student housing—and this year, Southern Boulevard, a 372-unit Section 8 affordable housing package in the Bronx priced at $33.25 million. Notable clients include the Catholic Archdiocese of New York, The Watchtower, AREA Property Partners, Phoenix Realty Fund, Stonehenge Partners, BFC Partners and Artimus. —KS
Jackie Totolo always had a pronounced interest in what was going on around her. "I'm kind of a know-it-all," she said. Ms. Totolo put her curiosity and insight to good use when, fresh out of the W.P. Carey School of Business, she joined RKF in 2007 as a marketing assistant before transitioning to brokerage the next year.

"Learning the market was tough," said Ms. Totolo. But any early hurdles soon passed into the rear view—Ms. Totolo has since leased 170,426 square feet of retail space in sought-after locations like Fifth Avenue and Lower Broadway, on behalf of owners including MetLife, Related Companies and The Winter Organization, to the likes of Guess, Swarovski and MAC Cosmetics, for whom she recently negotiated three long-term Manhattan leases.

She credits two people for shepherding her through her salad days. RKF Executive Vice President Ariel Schuster taught her "everything to do with Manhattan," and RKF Southern California President Robert Cohen was a vital guide to the canvassing process. Ms. Totolo's words of wisdom for brokers just entering the field? "Listen to your mentors."

Though youthful, Ms. Totolo is qualified to dispense advice, particularly when it comes to working with the beauty and fashion industries. "Cosmetics is doing well," she says. "I think companies are rebranding to cater to certain niche audiences while still pleasing department store customers."

The hypercompetitive quick-service-restaurant (QSR) category is another of Ms. Totolo's areas of expertise—in the past 18 months, she has brokered eight leases for handmade fast-food company Pret A Manger.

Whether she's negotiating for companies selling beauty products or sandwiches, Ms. Totolo says that brokering deals in prime retail areas is the most satisfying aspect of her job. "Madison Avenue, Fifth Avenue, Broadway in Soho—they always have more of an edge, and a bigger rush." —BG
Emily Weber's interest in the real estate game was piqued while she was a summer intern at Martha Turner Properties near her hometown of Houston, Texas. Though Ms. Weber—still in college at the time—learned valuable lessons there, she found herself drawn more to commercial real estate. "Residential is great, but it wasn't for me," she said.

In commercial real estate, Ms. Weber discovered a more clear-cut market, where clients have specific space and geographical requirements, as well as a greater sense of urgency. She got a taste of commercial markets as an intern at Jones Lang LaSalle and then at Cushman & Wakefield, while attending Trinity College in Hartford, Conn. She joined C&W full time in 2011, immediately following graduation. "I graduated, I drove into New York, I sold my car," she explained. She started work on June 15 of that year.

Today, Ms. Weber, 24, can boast a career square footage tally of 318,206. She learned from veteran brokers at the C&W from the very beginning. "When I first started, [Executive Director] David Rosenbloom was really my one-on-one mentor."

Such on-the-job assistance is a tremendous boon to a fledgling broker, she explained. "Mentorships are key in this industry when you're first starting out and you don't have any experience."

Working as an agent for five buildings in Manhattan—four in the area near Grand Central Terminal and another on Broadway—has allowed Ms. Weber to accumulate square footage through negotiating leases with tenants. Her duties include tenant representation as well.

One of the things that makes her job exciting is plying the trade in New York, a city Ms. Weber said she's gravitated to since before she was been bitten by the real estate bug. "It's a major business center of the world," she said. "Most companies want to have a presence in New York." That ensures that there will always be a market for commercial real estate in the city, and Ms. Weber plans to be a player in that market for the foreseeable future. —KS
Andrew Wiener, the 28-year-old director of leasing at L&L Holding Co., says the story behind a property is increasingly important in today's commercial real estate market. Mr. Wiener, who's been with the firm for almost three years, helps oversee a portfolio of 6 million rentable square feet with an availability rate of less than 5 percent. While the market for "commodity-type space" has softened, he said, there's plenty of demand when there's a narrative.

For L&L's buildings at 195 Broadway and 222 Broadway, for example, the story centers on how the transportation hubs at Fulton Street and the World Trade Center may help prospective tenants in recruiting employees. Mr. Wiener said he's been getting inquiries about 222 Broadway even before L&L moves forward with a redevelopment of the building.

For Midtown properties, he said, the story may revolve around the views, the efficiencies of floorplates and the proximity to Grand Central Terminal. "There's clearly a shift," he said. Tenants are focusing on "rewarding their employees with higher ceilings, bigger windows, a better work atmosphere."

The University of Delaware graduate interned at Cushman & Wakefield in 2004, then worked there until July 2010. Since joining L&L, Mr. Wiener has had a role in more than 50 leases on almost 750,000 rentable square feet of space.

Mr. Wiener has also helped underwrite potential acquisitions, L&L Executive Vice President David Berkey wrote in an email. "We fully expect he will continue to play a major role in the future growth of our firm," Mr. Berkey said. —SK
Amy Zhen, a 26-year-old broker with Newmark Grubb Knight Frank who has leased more than 100,000 square feet of retail space, is preparing to market 40,000 feet at 245-249 West 17th Street for Savanna.

NGKF is handling both the retail and office leasing assignment for Savanna, which acquired the property earlier this month.

"We'll be able to work together to really understand what ownership wants for the building, and try to go after that," Ms. Zhen said. The building extends through the block, and the main retail frontage is likely to be on 18th Street, she said.

A graduate of the Rochester Institute of Technology, Ms. Zhen has a Bachelor of Science degree in mechanical engineering with a minor in small business. She had a residential broker's license and was working on her own when she met Jeffrey Roseman, executive vice president and principal of NGKF, on the other side of a retail deal that she was handling.

At NGKF since August 2010, she has represented owners including RFR Realty, Savanna, and Icahn Enterprises and has helped sign tenants from industries ranging from restaurants to fashion companies to gyms. According to Ms. Zhen, the next few years may bring some big changes, especially in the area around the High Line in Chelsea, where she predicts more fashion companies will be coming to the gallery district.

"I represent a property on 22nd Street that [is] getting a lot of activity," she said. "I'm meeting with other developers to pitch more business."—SK
At 27, Ami Ziff has made his way onto this list by becoming director of national retail for Time Equities after a short but successful career in commercial real estate.

Mr. Ziff splits his time between running the firm's national retail portfolio of strip centers, a growing portfolio of 25 centers across 16 states, and acquisition sourcing and new deals. In his career, Mr. Ziff has signed more than 1.2 million square feet of leases and closed in excess of $66 million in acquisitions.

"I have a real passion for retail," said Mr. Ziff. "I sleep and breathe retail. I've worked on official and industrial buildings, and nothing has really captured my interest as retail does."

"I've always loved the relationship aspect," he continued. "If I have a relationship with a tenant in one state, I can put them in another state. There was a great opportunity on the retail side with Francis Greenburger [of Time Equities]."

One of his latest acquisitions was a 33,000-square-foot retail center in Queen Creek, Ariz., a state that figured prominently in Time Equities' strategy of expanding into the West.

"My favorite retail location? It has to be New York City, because it's unlike any other market," he said. Time Equities "doesn't own anything in New York, but Fifth Avenue in the 50s is outstanding."

When he isn't closing deals, Mr. Ziff actively fund-raises for the Livestrong Foundation and is an active supporter of the Jaffa Institute, Omi Arts Center and Columbia Greene Hospital Foundation. He also serves as the New York and Northern New Jersey Next Generation chair. —ME