Tavern On The Green's New Owners Discuss Restaurant's Complicated Past, Bright Future
---
---
Nearly three years after Tavern on the Green went dark, restaurateurs Jim Caiola and David Salama are opening up to Crain's about the controversy swirling around their lease on the landmark Central Park venue.
The Philadelphia-based partners and their company, Emerald Green Group, won the lease this summer over hometown favorites including the caterer Great Performances. The Bloomberg administration's selection of Mr. Caiola and Mr. Salama raised eyebrows in part because Mr. Caiola's sister is married to Kevin Sheekey, Mayor Bloomberg's former deputy mayor who currently serves as a top executive at Bloomberg LP. Some New York restaurant industry insiders doubted the credentials of the pair, who run Philadelphia's Crêperie Beau Monde and L'Etage 624.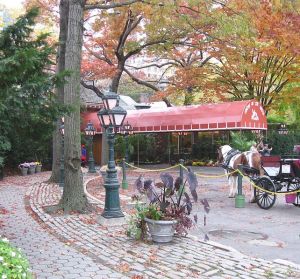 Mr. Caiola told Crain's that, "What [Mr. Salama and I] bring to the table is real positive, maybe naive, energy." The partners will have to quickly curb any naivete given the brand they're inheriting–Tavern on the Green was at one point the highest grossing restaurant in the country–and knotty complications including a recent history of union disputes raised by former employees.
"It feels like we are cleaning up a mess rather than starting over," said Mr. Caiola. Undeterred, Messrs. Caiola and Salama plan to move to New York from Philadelphia full-time in the coming months and project a November 2013 opening of the restaurant, whose renovation will cost $10 million (up from an original estimate of $7.8 million).
The space will seat 300 diners and employ 120 people, down from 850 diners and 400 employees when Tavern on the Green was run by the LeRoy family. The owners project revenues of $17.5 million in 2014; they stood at $32 million in 2008. Under terms of the 20-year lease, the restaurant will ultimately pay the city at least $38.7 million in fees. The city's share of gross profits will rise from 6% in the first year to 15.5% in the final year.