One Kings Lane Expands Downtown
---
---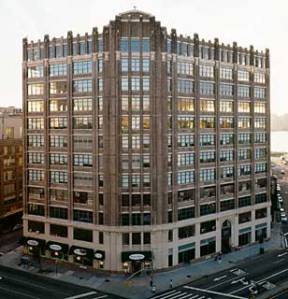 One Kings Lane will be expanding their presence at 205 Hudson Street.
"The company originally moved into a 13,000-square-foot office on the seventh floor," said a source close to the deal. "Then they expanded to another 7,000 square feet on the seventh floor."
The company has now inked a deal to expand another 28,793 square feet on the eighth floor. One Kings Lane will be subleasing from TheLadders.com, who previously occupied the space.
"Their total square feet in the building is about 50,000," said the source.
Founded in 2009 as a joint venture between Susan Feldman and Alison Pincus, the company hosts three-day online sales on home decor, accessories, and products. The company has since established itself as a leading home and lifestyle shopping destination and has grown to more than three million registered users and a staff of almost 300 employees.
"The company is expanding. They are hiring and they needed more space," said the source.
Several departments will be receiving additions, including the creative and marketing, planning and business analytics, engineering and product, merchandising, and general administrative.
Peter Gross, a broker at Williamson, Picket, and Gross, represented One Kings Lane in the transaction. Marc Shapses, an executive managing director of Studley, represented the sublandlord. Mr. Shapses was unable to be reached for comment.
The sublease was set for three years and the asking rent was $32 per square foot. The asking rent is considerably cheaper than a direct lease in the building, where asking rents stand at approximately $55 for a space on the fifth floor.
205 Hudson Street
,
Alison Pincus
,
Gross
,
Marc Shapses
,
One Kings Lane
,
Peter Gross
,
Picket
,
Studley
,
Susan Feldman
,
TheLadders.com
,
Williamson