Google's Presence in Penn Plaza Draws New Media and Advertising Agencies
---
---
Penn Plaza, the area surrounding Penn Station, has historically been a hub for firms that rely on transportation, namely the Long Island Rail Road and New Jersey Transit. Recent development, however, has taken the district in a new direction.
"We are seeing a wave of social media, advertising, marketing and high fashion tenants taking advantage of the still favorable value differential in the Penn Station submarket," said Kevin Hoo, the vice president of Savanna. "Google's presence at 111 Eighth Avenue and the tightening in that market has also begun to drive creative tenants northward into this submarket.
"We think that the transformation of Manhattan's West Side has already begun and that these new tenants continue to provide increasing momentum in that direction," Mr. Hoo added.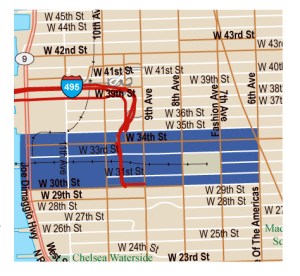 "The area has gradually been repositioning for higher uses," said John Picco, an executive director at Cushman & Wakefield. "Major owners like Vornado and Malkin Properties have upgraded their buildings or have plans in place to renovate on a major scale." Asking rents, he said, range from "mid-$40s per square foot [in] class B and C buildings to $60 per square foot for top of the market, like 1 Penn Plaza."
Availability in the submarket is at 9.1 percent, down from 9.4 percent last year, and it remains better than both the rest of Midtown at 10.5 percent and Manhattan as a whole at 9.6 percent.
"From a leasing perspective, consistent with the movement of high-quality and good-credit tenants seeking more cost-effective alternatives to Midtown, we have seen a healthy influx of tenants," continued Mr. Hoo. One of Savanna's buildings in particular, 31 Penn Plaza, is offering full floors of around 27,000 per square foot that are ideal for companies that want to maximize efficiencies on larger floorplates.
The building will soon undergo a building-wide improvement program that will renovate the lobby, restore the façade, and upgrade the common areas.
The building known as 31 Penn Plaza is another one of many buildings set to be renovated in coming years.
"The extension of the 7 subway and eventually a 'new' Penn Station at the Farley Post Office site will enhance transportation to the area and shift the focus farther west to the new developments," said Mr. Picco with regard to the future of the market. "The tie-in to the High Line Park will be a plus. Zoning changes will enable more residential conversion of older buildings. I think the area will become much more desirable as a place to live as well as work."
Michael Cohen, president of Colliers International's tristate office, said, "I think the big question that nobody knows the answers to, and this is a number of years down the road [is]:
What will the creation of the East Side access to Grand Central do to the demand for Penn Plaza?"
111 eighth avenue
,
311 Penn Plaza
,
Colliers International
,
Cushman & Wakefield
,
Google
,
High Line Park
,
John Picco
,
Kevin Hoo
,
Long Island Rail Road
,
Malkin Properties
,
Michael Cohen
,
New Jersey Transit
,
Penn Station
,
Savanna
,
Vornado Realty Trust