Blue Marlin Inks Office at 231 Front Street
---
---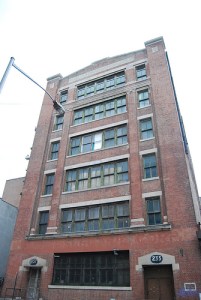 Blue Marlin will move into a new office in Dumbo.
The integrated brand design agency with offices around the world will open a new 5,500-square-foot office at 231 Front Street.
"It's an old brick and timber building from the turn of the century," said Christopher Havens, director of commercial properties at aptsandlofts.com. "It was actually residentially zoned, but because it is lot-lined and the building is narrow and long, it doesn't really work for apartments," Mr. Havens added. "So they decided to make it commercial."
The conversion has been planned for years, and development and renovations didn't start until about a year ago. The building features brand new heating and cooling, elevators, canopy, and facade.
"It didn't move much in the first half of the year," Mr. Havens said, referring to the leasing activity. "But then it exploded in the summer."
Blue Marlin will join Casserole Labs, a tenant that moved into the building a few months ago, on the fourth floor of the building. Casserole Labs expanded to 4,500 square feet and Blue Marlin will have its 5,500 square feet near the back of the plate.
"After we were successful in negotiating for the landlord to turn-key the space which Brooklyn landlords rarely do we knew we had to jump all over as this was literally the only space option in Dumbo," said Arkady Smolyansky of CBRE. "The space features beautiful wood beams and columns, exposed red brick throughout and the landlord will be installing brand new windows."
Mr. Havens represented the family-owned building alongside a member of the family, Claudine Rasp. Arkady Smolyansky, a tenant representative specialist and associate of CBRE, was instrumental in brokering the deal for Blue Marlin.
The asking rent for the space was $32 per square foot.